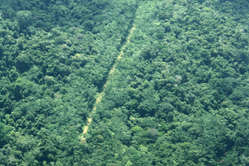 "Illegal airstrip on Yanomami land, serving goldminers"
© Hutukara/ISA
Yanomami spokesman and shaman Davi Kopenawa met with President Lula this week and asked him to remove all the goldminers working illegally in the Yanomami territory in north Brazil.
Hutukara, the Yanomami Association, has repeatedly asked the authorities to take urgent action as clandestine mining camps are growing, posing serious health risks, and contaminating rivers.
Some goldminers are violent towards the Indians. Earlier this year a Yekuana Indian was killed by miners when he refused to take them into the Yanomami territory.
The miners spread diseases like malaria and flu to which the Yanomami, a relatively isolated people, have little resistance.
In a letter to the President, Hutukara also demands more input and participation of the Yanomami communities in a new health care programme which is to replace the current model which has been hampered by massive corruption and bureaucracy. In recent months hundreds of Yanomami have caught malaria and children have died from the disease as medicines are not reaching many communities.
Ranchers and farmers illegally encroaching on Yanomami land
© Hutukara/

ISA
Hutukara also demands that a group of ranchers and farmers who have illegally encroached on land belonging to the Yanomami of Ajarani community be removed because they are causing huge damage to the environment and intimidating the Yanomami in this area.
The letter ends with a powerful critique of imposed development and large scale mining and explains how the Yanomami themselves see development: 'You [non-Indians] say that we are poor and that our lives will get better. But what do you know about our life to say that it will get better? Just because we are different to you and live in a different way and value different things does not mean that we are poor.
'We Yanomami have other riches left to us by our ancestors which you, the white people, are not able to see: the land that gives us life and clean water which we drink, and our children who are happy…. We want our right to choose what is best for us guaranteed.'
Read the Hutukara letter in Portuguese

Your support will help the Yanomami keep control of their lands, lives and futures. There are many ways you can help.