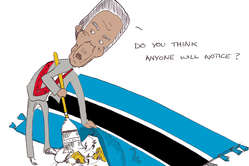 "Botswana's President Ian Khama, in a satirical cartoon by an anonymous artist"
© Survival International
To mark Botswana's Independence Day (30 September), and 18 months since Ian Khama came to office, Survival International has released a cartoon by an anonymous artist from Botswana depicting the President trying to sweep the Bushmen under a carpet.
President Khama (a board member of the non-governmental organisation, Conservation International) has done nothing to undo his predecessor's pernicious policy of making the Bushmen's life in the Central Kalahari Game Reserve impossible. Indeed, he has called their way of life an 'archaic fantasy'.
No Bushmen have been granted hunting licences, in violation of Botswana's High Court ruling, and none are allowed to access water from inside the reserve, making it difficult for the Bushmen to survive there. Tourist lodges in the reserve, however, are allowed to use all the water they need, including for wildlife.
The Bushmen have recently launched new legal proceedings against the government, to claim their right to use their own water borehole inside the reserve, and Survival has started a worldwide ad campaign to ensure the Bushmen's plight remains in the public eye.
Survival's director Stephen Corry said today, 'President Khama isn't only trying to sweep the Bushmen out of the picture, he's making things even worse by attacking their way of life and refusing to uphold his own court's rulings. To stop them accessing their own water, for over seven years, is an enduring disgrace about which the Botswana government should hang its head in shame.'
For more information and images please contact Miriam Ross:
T (44) (0)20 7687 8734 or (44) (0)7504543367
E mr@survival-international.org
Your support is vital if the Bushmen are to survive. There are many ways you can help.