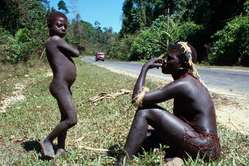 A Jarawa woman and boy by the side of the Andaman Trunk Road
© Salomé
Weeks after the last member of the Bo tribe died on the Andaman Islands, an Indian court has moved to protect the neighbouring Jarawa tribe by suspending the operation of a controversial tourist resort.
India's Supreme Court ordered on Monday that the company, Barefoot India, must close its resort near the Jarawa's reserve, pending further deliberation by the court.
Despite concerns for the future of the tribe, Barefoot had challenged the legality of a 'buffer zone' around the reserve. The buffer zone was designed to protect the Jarawa by preventing tourism and other commercial activity near their land. The resort lies within the disputed zone.
But concerns remain over a highway running illegally through the tribal reserve, and the poachers, tourists and other outsiders it brings into daily contact with the Jarawa. The Indian government has ignored a 2002 Supreme Court ruling that the road must be closed.
Most of the Bo tribe, whose last member Boa Sr died in January, died of diseases brought by British colonists in the nineteenth century. The Jarawa, who resisted contact with outsiders until 1998, are expected to have little immunity to many outside infections and could be wiped out by an epidemic.
Many of Barefoot's visitors will have recently stepped off long-haul flights. Research indicates that about 20% of airline passengers develop colds or other viral infections within a few days of their flight.
Survival's director Stephen Corry said today, 'Nobody wants to see the Jarawa go the same way as Boa Sr's people. This week's court decision to suspend the Barefoot resort is a positive sign. But if the Indian government is serious about protecting the Jarawa it must close the road and keep intruders off their land.'
Survival's Andamans campaign focuses on the Jarawa, because their situation is the most precarious of the four tribes. Your support is vital for the Jarawa's survival. There are lots of ways you can help.