Tribal Peoples
for tomorrow's world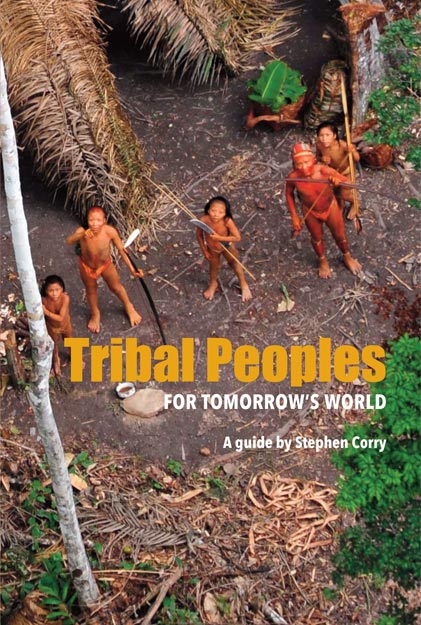 About the book
The treatment of indigenous and tribal peoples, the world's largest minority, is a major humanitarian issue. It shapes world history and raises profound questions about what it really means to be human.
This book refutes criticisms of tribal rights and answers about every question you might have about them: how they live; their history; what they want; and what they have given the world. Governments will hate it.
---
An introduction to tribal peoples
Who are tribal peoples?
How do they live?
Why do governments hate them?
Why is their disappearance far from inevitable?
Endorsed by tribal people and anthropologists the world over, this illuminating book answers all these questions and more. Indigenous and tribal peoples are the world's largest minority and the abuse they suffer is a major humanitarian issue. It shapes world history and raises profound questions about what it really means to be human.
The indigenous viewpoint
A book everyone must read – powerful stories of the harsh realities of both assimilation and rejection of our peoples and our struggles around the world.
Jolene Ashini, Innu, Canada
A wonderful contribution, bringing unknown peoples to the known world.
Prof A Lanunungsang, Ao, Nagaland University, India
Very significant guidance for administrators, policy makers & others.
Anstice Justin, Nicobarese, Anthropological Survey of India
About the book
Tribal peoples for tomorrow's world is a distillation of a life's work. It argues passionately, and controversially, that hunting and nomadism are neither backward nor primitive, but intelligent and conscious choices – and that upholding the law and understanding racist prejudice solves most tribal peoples' problems. It shines a light on the ground-breaking, but entirely unrecognized, contributions they have already made to the world, and exposes the inconvenient truth that their survival is in everyone's interest.
Corry's book gives new definitions for 'indigenous' and 'tribal', and explains the difference. It coins terms such as 'Amish error' (the mistaken belief that people are backward because they don't use aspects of 'modern' technology) and the 'Curtis device' (the exclusion of 'modern' items from images of tribal peoples to make them appear more exotic). It also explains what 'culture' really is, and why governments are fundamentally opposed to any that fall outside the mainstream.
The 'guide' presents evidence to support the case that tribal peoples are not 'primitive' or 'backward', and are no more 'savages' than anyone else, but it also roundly rejects romantic portrayals of the 'noble savage'.
It asserts that the problems faced by tribal peoples are nothing to do with any failure to adapt to 'modernity', but arise simply from the theft of their land and resources and accompanying attempts to force them into the mainstream. These crimes are a legacy of slavery and colonialism and will only end when there is a groundswell of opinion which recognises this.
What do the academics say?
Tribal peoples for tomorrow's world is being used by university professors in Bangladesh, Brunei, Canada, India, Kenya, New Zealand, Pakistan, South Africa, the UK and the US.
Excellent introduction: all-encompassing, easy to read, evocative, passionate, and powerful where it needs to be.
Prof Roy Ellen, President (2007-2009), Royal Anthropological Institute, UK
A valuable contribution to this area of anthropology
Clark Barrett, University of California, Los Angeles, USA
Plenty of thought-provoking material that ought to be compulsory reading for anthropology and human rights students, and teachers too!
Dr Julian Burger, Director (1990-2010), Indigenous Peoples Programme, UN Office for Human Rights
Effective, valuable and important.
Prof Terence Turner, Emeritus Professor, Cornell University, USA
Corry has devoted a lifetime of energy and intelligence to the cause of tribal peoples. He offers an astonishing wealth of knowledge and a multitude of insights in language that is clear and yet impassioned. Here is a book that is both fun and luminous.
Prof Hugh Brody, Canada Research Chair, University of the Fraser Valley, Canada
Very useful for introductory as well as advanced level.
Mohammad Altaf Hossain, University of Rajshahi, Bangladesh
Rich and well-written – easy to understand.
Prof Halimu Suleiman Shauri, Chairman, Social Sciences, Pwani University, Kenya
Stephen Corry's book is well conceived and persuasive, a worthy testimony to his impressive lifetime commitment and to the reminder which he has consistently imparted to anthroplogists over four decades, that they have a moral responsibility to publicize the predicament of indigenous peoples.
Jonathan Benthall, Director (1974-2000), Royal Anthropological Institute, UK
A more direct and honest approach than most texts on indigenous peoples.
Professor John Colton, Acadia University, Nova Scotia, Canada
Very interesting and thought provoking. It is a welcome addition to the existing literature on tribal society and enriches our knowledge on the current situation of tribal peoples the world over.
Dr Gomati Bodra Hembrom, Jamia Millia Islamia University, New Delhi, India
Readers' comments
This work pulled me every which way – shame, amusement, horror and, on occasion, I was unable to grasp (although believing) what I was reading: in particular [the link between] Conservation International, JP Morgan and the president of Botswana.
J S, UK
Illuminating… made me feel much closer to tribal peoples.
Anastasia Tolstoy, student, UK
An admirably clear introduction to the lives of indigenous people and the challenges and prospects [they face].
N C, UK
Your book was exactly what I was looking for: wide-ranging, comprehensive but not too academic.
L T, USA
Reviews
Journal of the Anthropological Society of Oxford New Series, Volume IV, no. 2 (2012)

, pp.212-213.
Indian Country Today March 2012
Celebrity endorsement
This book makes the case that we've far more to learn from tribal peoples than we have to teach them. It's compelling stuff.
Colin Firth, actor

I love Earth, it's my favourite planet – this book is a refreshingly original approach to who tribal peoples really are and the startling contribution they make.
Damien Hirst, artist
And some criticism of the author…
Corry is a liar, devil and loose cannon.
Botswana government ministers (evicting Bushmen from their lands)


Buy the ebook
Although Tribal peoples is not a Survival International publication, all proceeds go to Survival. The book is available as a paperback, an e-book, and will be available to read as a (free) PDF later. The price is held low to make it as widely accessible as possible. Other language editions are planned. Available in Spanish
Amazon Kindle UK
Amazon Kindle US
Buy the paperback