Write a letter for the Sentinelese
1. Write your letter

, then 2. Complete it and 3. Mail it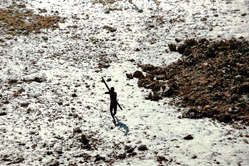 In the wake of the 2004 tsunami this member of the Sentinelese tribe was photographed firing arrows at a helicopter.
© Indian Coastguard/Survival
The Sentinelese resist all contact with outsiders. Yet poachers continue to threaten their island and its waters.
Any encounter between poachers and the Sentinelese could result in violence, and the transmission of diseases to which the tribe are likely to have no immunity.
It is common for more than half the population of an uncontacted tribe like the Sentinelese to die following contact with outsiders.
How you can help
Send a letter to the Indian Prime Minister and urge the government to take seriously the threats to the Sentinelese.