Vedanta's PR offensive
'Creating Happiness'
Vedanta's line: The company is 'Creating Happiness', through its social responsibility programmes.
The facts: Vedanta's high-profile and expensive advertising campaign backfired when public outrage caused associated celebrities to withdraw.
Far from 'creating happiness', Vedanta has been repeatedly found to violate laws on environment protection and human rights. The most damning report came in 2010, when the Government of India found that the company had behaved with 'utter contempt' for Indian environment laws, and showed 'blatant disregard for the rights' of the Dongria Kondh.
Instead of actually talking to the Dongria Kondh about its plans, Vedanta Resources, together with its PR companies, has launched a sustained PR offensive against the tribe's efforts to stop the mine. Much of this material has been manipulative; some has been completely untrue. Here we expose some of the claims made by Vedanta and others.
Case closed
Vedanta's line: The Indian Supreme Court has already approved the mine, there is nothing more to say.
The facts: The Supreme Court has never been asked to consider Dongria Kondh rights. See the court orders here and here. Two separate reports commissioned by the Indian Environment Ministry have strongly recommended against mining, one of them declaring that it would be 'illegal' to do so. Vedanta does not yet have the final clearance it needs from the Ministry to begin mining.
'Optimal rehabilitation'
Vedanta's line: Dongria Kondh have been provided with an 'optimal rehabilitation and resettlement package' at Vedanta's rehabilitation colony.
The truth: No Dongria Kondh have been settled at the 'rehab colony', as they do not live around the refinery. Some Majhi Kondh moved there when their homes were destroyed to build Vedanta's alumina refinery. One woman told Survival, 'All I can do all day is sit on this concrete. What life is that?'
Download map of Dongria Kondh villages on Niyamgiri – Google Earth file
'Sustainable livelihood'
Vedanta's line: Vedanta's projects have already brought 'sustainable livelihood for community at large.'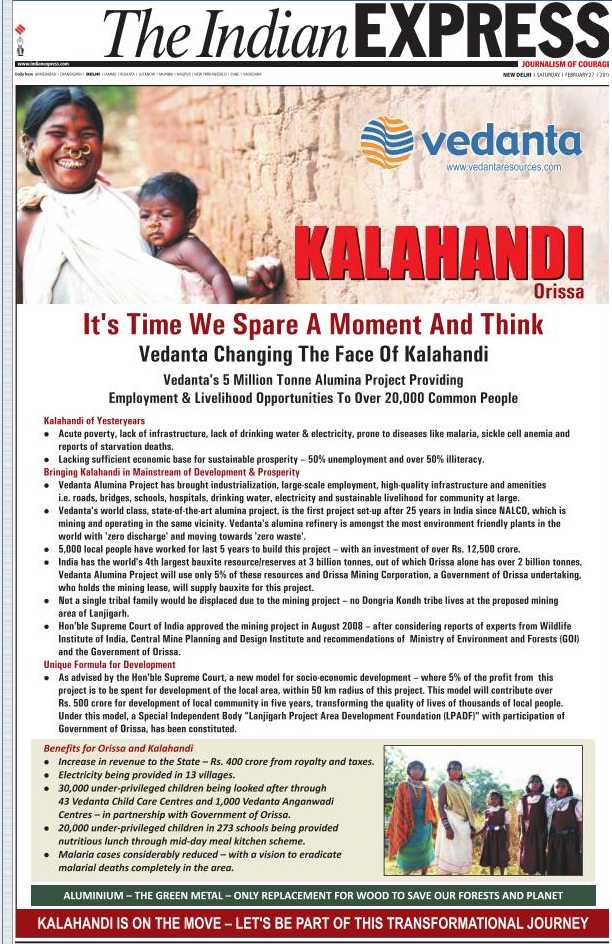 The facts: People who have been affected by Vedanta's refinery tell Survival life got harder when the company arrived. An expert appointed by the government said 'The loss of land, the proximity to pollutants, and the inability to access jobs…has left these villagers in an unenviable situation'
'Green Aluminium'
Vedanta's line: 'Aluminium – the green metal – only replacement for wood to save our forests and planet'
The facts: Vedanta have already cut down trees to clear the path for the mine's surrounding infrastructure. A team of experts appointed by the Indian government reported that 'the effect of removal of trees and top-soil on the continuity of the wildlife habitat at the [mining] site is bound to be irretrievable, and cannot be treated as nominal.'
'Golden Peacock award'
Vedanta's line: Vedanta have received the 'golden peacock award' for environmental management.
The facts: Vedanta's alumina refinery at the base of the Niyamgiri Hills has been habitually flouting environmental standards for years, as government pollution inspectors have documented, describing the refinery's emissions as 'continuous' and 'alarming'. Vedanta started expanding their refinery without getting environmental clearance to do so. Even though government inspectors told Vedanta to stop, the expansion and the pollution continue.
'No Dongrias living there'
Vedanta's line: The nearest Dongria Kondh community is 12 km from the mine site
The facts: There are more than 60 Dongria villages within 12 km of the mine site, as well as many other tribal and local villages. Vedanta's own environmental impact assessment for the mining project states 'the proposed mining project is expected to cause some persons (exact number will be available after enumeration) to lose their land fully or partially.' According to the same document, four Dongria villages fall within the actual concession area of the mine.
Download map of Dongria Kondh villages on Niyamgiri – Google Earth file
Community consultation
Vedanta's line: India's Supreme Court has accepted that the local community (including the Dongria Kondh) have been properly consulted 'and the majority were supportive.'
The facts: India's Supreme Court has never ruled on this topic, although their expert advisory panel specifically recommended against mining Niyamgiri. Survival has asked Vedanta several times for evidence that the Dongrias have been properly consulted, but has never received any. Survival has complained about this to the OECD, which is currently investigating Vedanta. Dongria Kondh hold regular, well attended, demonstrations against Vedanta.
Dongria Kondh man, Sahadev
Kadraka: 'they gave us gifts
then they interviewed us'.
Click for larger image.
'They support the mine'
Vedanta's line: Anonymous youtube contributor 'crazyjunjohn' posted videos featuring Dongrias who say they wholeheartedly support Vedanta's mine.
The facts: One of the interviewed Dongrias was Sahadev Kadraka (pictured right). He told Survival that three men from Vedanta came to his village with free clothes and promises of more gifts for the community if Sahadev agreed to say he supported the mine on camera. He told Survival, 'In my heart I have never supported Vedanta.' Read Sahadev's account of what happened.
'Positive impacts' of other mines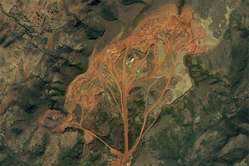 The 'positive impact' of Panchpatmali mine as seen from above.
Vedanta's line: Vedanta takes eight Dongria men to nearby Panchpatmali bauxite mine. They see the mine's 'positive impacts' on forest cover, water and livelihoods.
The facts: Panchpatmali mine covers over 400 acres of formerly forested land. One of the men taken there by Vedanta later said, 'there are no natural plants there. We can not let this happen to Niyamgiri.' In villages surrounding Panchpatmali, people complain that the streams have dried up and are polluted by the mine. Farmers say their paddy crops have suffered and polluted water made their cattle sick.
Download a map of the Panchpatmali mine – Google Earth file

'Walking hand in hand with the Dongrias' – one of
Vedanta's PR videos.
'Vedanta is committed to protect'
Vedanta's line: Vedanta is 'committed to protect' the Dongria's 'lifestyle, their culture, their needs and aspirations as we walk hand in hand with them'.
The facts: The Dongria have been protesting regularly since they learned about Vedanta's mining plans, but Vedanta has not acknowledged or responded to these demonstrations. The mountain Vedanta wants to mine is sacred to the Dongria, it is their supreme god Niyam Raja. The company has never addressed this issue because there is no answer to it – Vedanta's mine will destroy the Dongria's god.
We have to drive Vedanta away from here' – voices of the Dongria Kondh.
'Committed to tribal development'
Vedanta's line: Vedanta provides income generation projects for local tribals, including growing strawberries, and is committed to helping tribal communities.
The facts: One Dongria man said to Survival 'We don't want any money from the company or any facilities like medical or education facilities. We don't want the mine or any help at all from the company. We do not want this 'city life'. We don't want motorbikes. If the government wants to develop our people then it can talk to us. But not the company. We do not want anything from the company.' When Vedanta gave gifts of saris to women in one village, they were burned.
Dongria women burn saris given to them by Vedanta. Video by ActionAid.
Related documents (.pdf files )