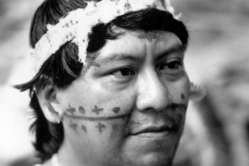 Davi Kopenawa, Yanomami spokesman and shaman from Watoriki, Brazil.
© Sue Cunningham/Survival
Davi Kopenawa, shaman and spokesman for the Yanomami tribe in Brazil, has received death threats from armed men allegedly hired by goldminers operating illegally on Yanomami land. He has requested police protection.
Please write to Brazil's Minister of Justice urging him to give Davi Yanomami full police protection and to investigate and bring to justice the people behind the threats.
Emails sent:
4,388

Help us reach

10,000

!