Statement by Davi Kopenawa Yanomami on uncontacted Indians
English translation
Davi Kopenawa, shaman and spokesman of the Yanomami tribe, Brazil. Davi is also the President of Hutukara Yanomami Association. © Fiona Watson/Survival
There are many uncontacted Indians. I don't know them, but I know they are suffering just like we are. The white people are always wanting more, destroying, looking for natural resources.
All indigenous peoples were born with a deep connection to the land, as they still are today. We are different from the city people. The white people do not know, they do not know our roots.
We look after nature, and nature looks after us.
It is really important for all Indians, including the uncontacted Indians, to stay on the land where we were born.
The place where the Indians live, fish, hunt and plant must be protected. The authorities must recognise that this is Indian land.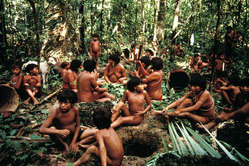 Yanomami of Demini prepare timbó poison from a vine, used to stun fish, Demini, Brazil. © Fiona Watson/Survival
I want to help my uncontacted relatives who have the same blood as us. My relatives who live in the forest and have never seen the white people's world.
We all breathe the same air.
The authorities must respect our right to live in our place, on our land. Without the Indians, without the forest, there is no life.
This is my opinion as a traditional leader. I am just a small authority.
It is very important that the uncontacted Indians can live on their land. The big authorities must respect this.
That is why it is useful to show pictures of the uncontacted Indians, for the whole world to know that they are there in their forest and that the authorities must respect their right to live there.
Original Portuguese
Tem muitos índios isolados. Não conheco eles, mais sei que o sofrimento deles é o mesmo que o nosso. O homem branco sempre está querendo, destruindo, buscando recursos naturais.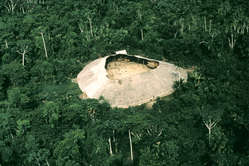 A Yanomami maloca. The Yanomami live in large, circular, communal houses called yanos or shabonos. Some can house up to 400 people. The central area is used for activities such as rituals, feasts and games. © Dennison Berwick/Survival
Todos os povos indígenas nasceram junto com a terra, até hoje. Nós somos diferentes do povo da cidade. O homem branco não sabe, não conhece nossa raiz.
Nós cuidamos a natureza, e a natureza cuida de nós.
E muito importante para todo índio, inclusive os isolados, ficar lá na terra onde nascemos.
Tem que cuidar e proteger o lugar onde os indios moram, pescam, caçam, plantam. As autoridades têm que reconhecer que é terra dos índios.
Quero ajudar os meus irmãos isolados que são da nossa sangue. Os meus irmãos que moram na floresta e nunca conheceram o mundo dos brancos.
E o mesmo ar que respiramos.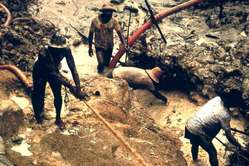 Gold miners work illegally on the Yanomami's land, Brazil, 2003. © Colin Jones/Survival
As autoridades têm que respeitar o nosso direito de morar no nosso lugar, na nossa terra. Sem índio, sem floresta, não tem vida.
Essa é a minha opinião como liderança tradicional. Só sou pequena autoridade.
E muito importante os isolados poderem morar na terra deles. As grandes autoridades têm que respeitar isso.
Por isso é útil mostrar as imagens dos isolados, para o mundo inteiro saber que eles estão lá na floresta deles e que as autoridades devem respeitar o direito deles de morar lá.