Media kit: Climate change and tribal peoples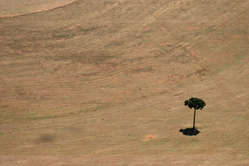 Survival's report 'The most inconvenient truth of all' reveals how measures to stop global warming can be as devastating to tribal peoples as climate change itself.
The report shows how biofuels, hydro-electric power, forest conservation and carbon offsetting are threatening tribes from Brazil to Borneo.
Indigenous peoples, who rely on the land for their survival, are already the most affected by changes in the climate, like melting sheet ice.
The report highlights why measures to mitigate climate change, where they affect indigenous peoples, must involve them and respect their rights to their land.
This kit contains movie files, images, quotes and relevant links to be freely used for press purposes. More material can be provided upon request.
Download the report – PDF (3.5MB)
Broadcast video & audio
Broadcasters: Download clips of interviews with Survival researchers Jonathan Mazower and David Hill. For more clips or to arrange an interview contact Miriam Ross on (+44) (0)20 7687 8734 or email [email protected]
These unedited clips are available to use without charge in broadcast or online pieces about issues contained in Survival's report. The files can be downloaded in two formats:
High quality H.264 MPEG4
High quality DV (PAL) (1.0GB)
Jonathan Mazower audio interview – MP3
Jonathan Mazower audio interview – WAV
David Hill audio interview – MP3
David Hill audio interview – WAV
Edited video clip for embedding
Embed this short clip (as shown below right) on your site – just copy the following code and paste into your blog or website.


Relevant links
Quotes
The following quotes come from Survival and indigenous spokespeople.
Climate change and tribal peoples
"It's a terrible irony that indigenous people, who are the ones who have done least to cause climate change, are now potentially the ones most affected not only by climate change but measures actually to mitigate it and to stop it, and this is something that hasn't had the attention it deserves."
Jonathan Mazower, Media Director, Survival International
"The talks at Copenhagen could have huge consequences for indigenous peoples, their rights and their territories all over the world. What Survival is saying is that indigenous peoples should be fully consulted about measures to stop climate change, they should fully participate in measures to stop climate change and under no circumstances should their rights be violated or their land destroyed."
David Hill, Researcher, Survival International
Climate change
"The snow is melting sooner, quicker and faster than before. The changes aren't good for the reindeer and ultimately what is good for the reindeer is good for us."
Jakov Japtik, Nenet reindeer herder, Siberia
Biofuels
"The big sugar cane plantations are now occupying our land. Sugar cane is polluting our rivers and killing our fish. (It is increasing) suicides, mainly among young people, alcoholism and murder."
Guarani leader Amilton Lopez from Brazil
Hydroelectric power
"The water from the dam will flood our traditional lands including our villages, properties, gardens, paddy fields and farmlands, fruit trees, graves etc. We will be forced to move to an area that we do not know and is not compatible with our life conditions."
Statement by a group of Penan whose land is due to be flooded by the Murum dam, Sarawak, Malaysia
Forest conservation
"Everyone has been living in fear for the last month. This is very serious. The Ogiek have nowhere else to go. People are crying about the eviction. The government said it would spare no one."
Kiplangat Cheruyot, Ogiek People's Development Program. The Ogiek are threatened with eviction from Kenya's Mau Forest in the name of conservation.
Carbon Offsetting
"REDD (schemes known collectively as Reduced Emissions from Deforestation and Forest Degradation) will increase the violation of our human rights, our rights to our lands, territories and resources, steal our land, cause forced evictions, prevent access and threaten indigenous agriculture practices, destroy biodiversity and culture diversity and cause social conflicts."
International Forum of Indigenous Peoples on Climate Change (IFIPCC) statement, November 2007
Images
These images may be used in news or blog pieces concerning the report. For larger images for print reproduction, or for other images related to the report, please contact Miriam Ross on (+44) (0)20 7687 8734 or email [email protected]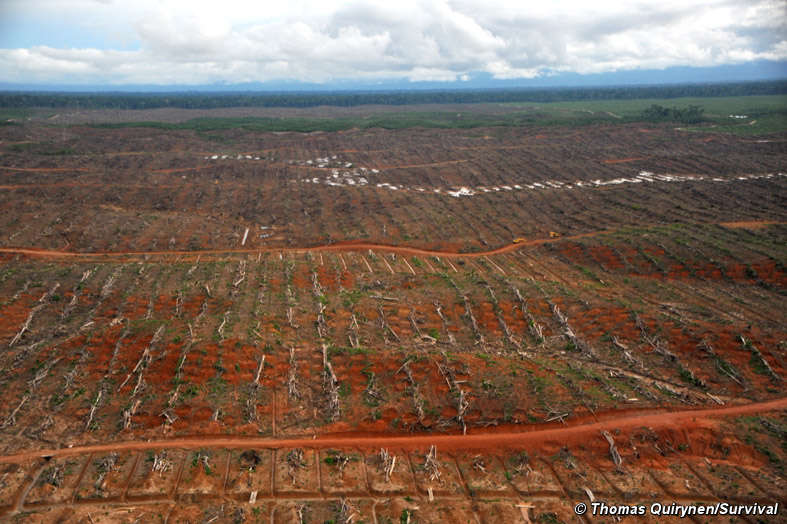 Recently chopped rainforest for production of palm oil in the province of Loreto, Northern Peru.
© Thomas Quirynen/Survival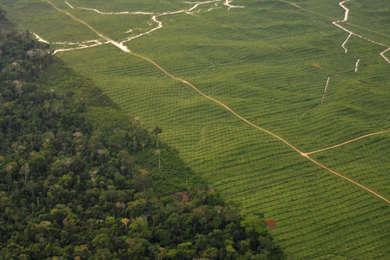 Oil palm plantation, Peru. Much of the land used to grow biofuels such as oil palm is the ancestral land of tribal peoples.
© Thomas Quirynen/Survival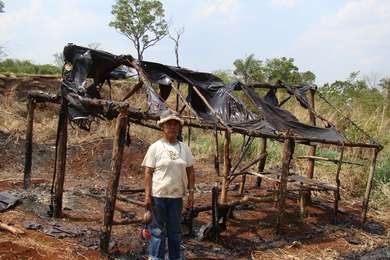 A Guarani house burned down during violent evictions, that will make way for deforestation to open up land for cattle ranching.
©
CIMI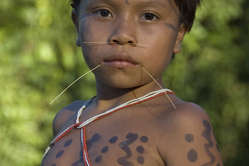 Severe drought has struck parts of the Amazon rainforest, home to hundreds of indigenous peoples such as the Yanomami.
© Fiona Watson/Survival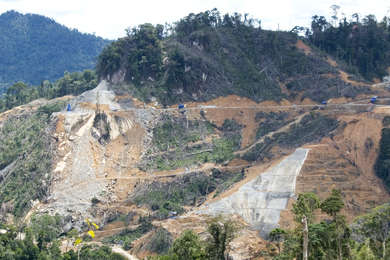 The Murum Dam is under construction in Malaysian Borneo, and many Penan will be forced to leave their land.
© www.survivalinternational.org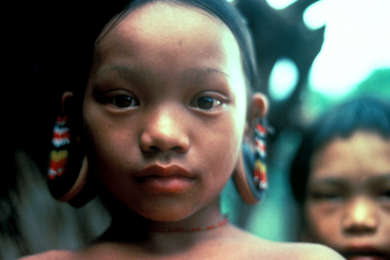 The Penan are just one of many tribes affected by climate change, Borneo, Malaysia.
© Robin Hanbury-Tenison/ Survival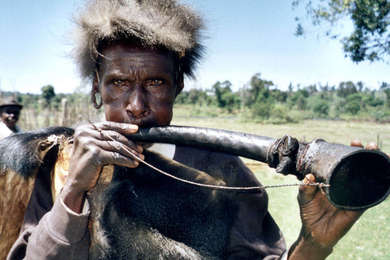 Kenya's government has repeatedly tried to evict the Ogiek, citing climate change as a key motivation.
© Virginia Luling/Survival