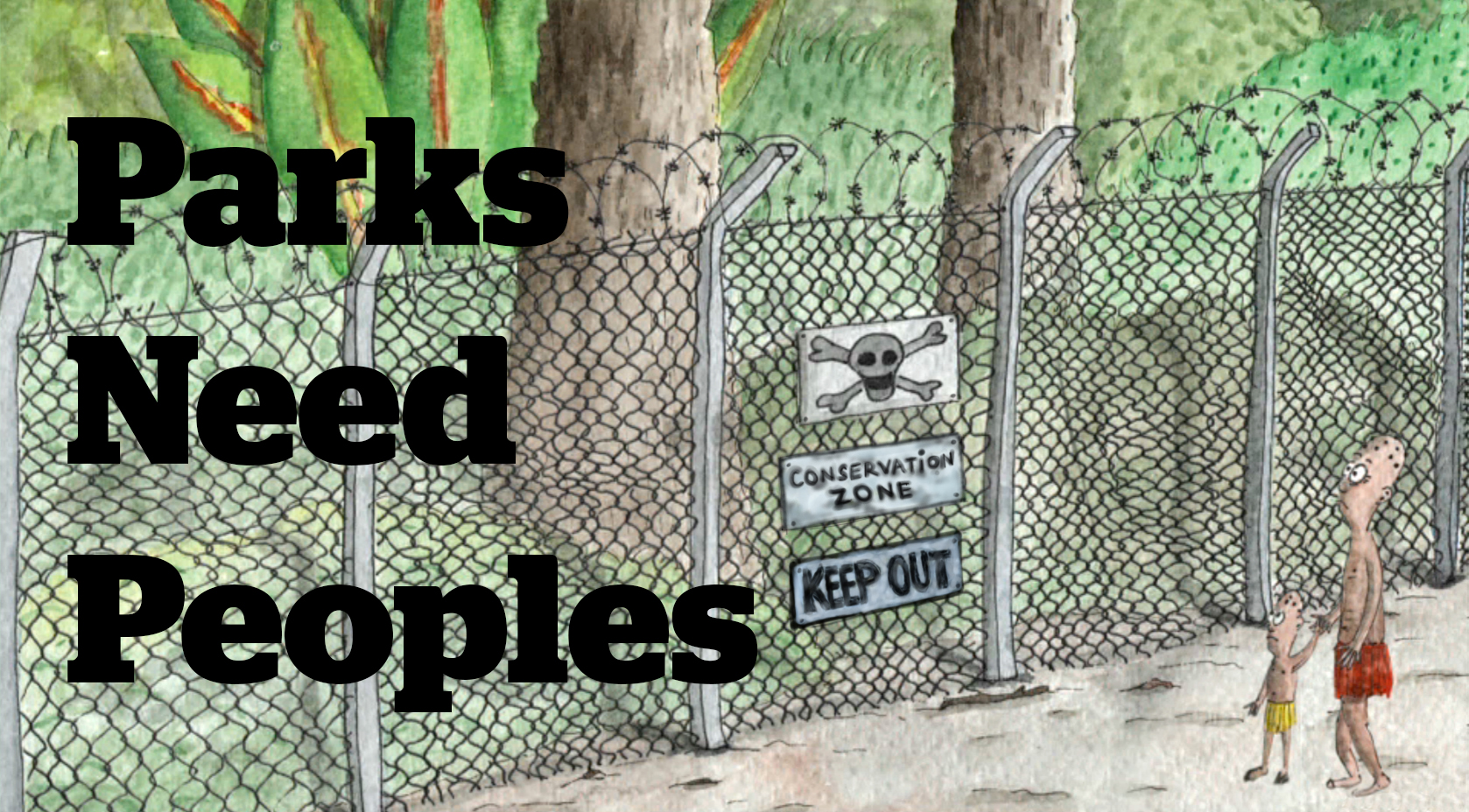 Tribal peoples are being illegally evicted from their ancestral lands in the name of "conservation".
We're fighting these abuses. We know tribal peoples are better at looking after their environment than anyone else.
But we depend on you. We need your money, energy and enthusiasm to help us fight one of the most urgent and horrific humanitarian crises of our time.
Our great grandparents lived with the animals, and took great care of them. But we are being chased out from them. We need to be given our land. Now it is very difficult for us to survive. Matsipane Mosetihonyana, a Bushman who died soon after being evicted from the Central Kalahari Game Reserve
Wilderness?
The conservation industry frequently makes reference to "wilderness", but the concept is fundamentally flawed. Nearly all conservation zones are in fact the ancestral lands of tribal peoples, who have controlled their environment for generations.
Far from being devoid of human influence, even the world's most famous "wildernesses" – including Yosemite, Yellowstone, and the Serengeti – were in fact home to tribal people, who were violently evicted when their lands were turned into national parks. Now, these areas are geared towards mass tourism and its businesses.
These days, the pattern is being repeated. In some cases, protected areas are even logged and mined. It wreaks havoc both on the environment, and the families who call it home.
We are claiming back the forest. Not to poach but to live well, like before. Mobissa, Baka man, Cameroon
Human rights abuses
When faced with losing their lands and livelihoods to national parks, few communities give them up willingly. The consequences when they resist are severe. Tribal people all over the world complain of beatings, arbitrary detention, harassment, and even torture, when they oppose the loss of their ancestral homelands to a protected area.
As a reaction to criticism, many conservation organizations have been pushed into creating policies relating to indigenous peoples. On paper, these highlight the need to gain a community's free, prior, and informed consent, before embarking on the creation of a conservation zone. They usually also recognize the tribe's right to continue to use the natural resources in the area.
However, in practice, these policies are rarely followed. In Cameroon, for example, anti-poaching squads routinely harass, intimidate or beat Baka "Pygmy" tribesmen when they enter their forest; in India, tribal people continue to be evicted to make way for tiger reserves.
.
The environment is not separate from ourselves; we are inside it and it is inside us; we make it and it makes us. Davi Kopenawa Yanomami, Yanomami shaman, Brazil
Parks need peoples
Twenty per cent of the whole Brazilian Amazon is controlled, and properly looked after, by tribal peoples. Satellite imagery of the area is striking – in many cases (see image) the indigenous territories are clearly defined by the deforestation that stops at their borders.
Numerous studies reveal reduced deforestation and forest fire rates on indigenous land. These provide compelling evidence that tribes generally manage their lands extremely well. They have to – they depend on them to live and thrive.
Wildlife officers, on the other hand, are usually badly paid and so easily corrupted. They often are not even recruited from the same places they are expected to protect. They can also be under pressure to ignore poaching carried out by a network of powerful elites. All these factors mean they are far less motivated than tribal people to look after the environment.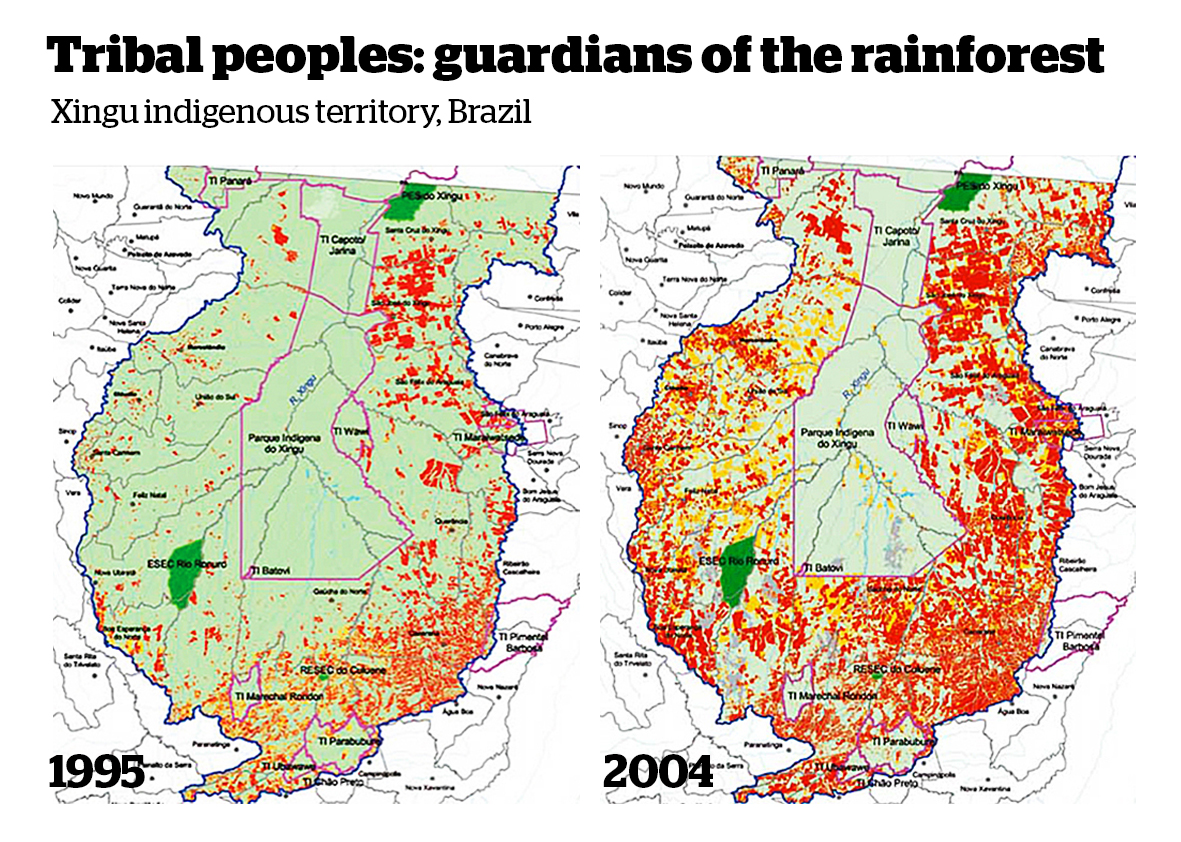 I sit and look around the country. Wherever there are Bushmen, there is game. Why? Because we know how to take care of animals. Dauqoo Xukuri, Bushman, Botswana
Conservation from the ground up
We know tribal peoples are the best conservationists and guardians of the natural world. They know more about their lands and what happens on them than anyone else.
Conservation organizations must recognize this and make a fresh start if conservation is actually going to start working in the way it's supposed to.
They must stick to international law, protect tribal peoples' rights to their lands, ask them what help they need in protecting it, listen to them, and then be prepared to back them up as much as they can.
There are several small-scale projects around the world trying to do this, but it's nowhere near enough, and a major change in thinking about conservation is now urgently required.
Our relationship to the forest is like a child to its mother. The western environmental groups can't understand that. Muthamma, Jenu Kuruba leader, India
Conservation can – and must – be done differently.
It should recognize that tribal peoples are the best conservationists, and it must promote rather than undermine their land rights.