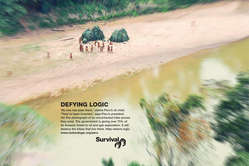 Survival has launched a global ad campaign in support of the uncontacted tribes of Peru.
© Survival
An ad supporting Peru's last uncontacted tribes is appearing in publications around the world in a bid to stop Peru's government allowing an oil pipeline to be built through the Indians' territory.
The ad, created by Survival, has appeared in publications in France, Germany, the Netherlands, Spain, the United States, and the United Kingdom.
The ad features an extremely rare photograph of twenty-one uncontacted Indians on a riverbank in south-east Peru and a quotation from Peru's president, Alan García, claiming the tribes have been 'invented.'
'Our aim is to draw the world's attention to what Peru's government is doing to its uncontacted tribes. We're also urging it to scrap plans to build a pipeline deep into the heart of their territory in the north of the country,' said Survival director Stephen Corry.
Plans for the pipeline were recently revealed by Anglo-French company Perenco, chaired by one of the wealthiest men in France. Perenco aims to extract 300 million barrels of oil from the region, and high-ranking officials in Peru's government, including President Garcia, hope it will transform the Peruvian economy.
The full text of the ad reads: ''No one has seen them,' claims Peru's oil chief. 'They've been invented,' says Peru's president. Yet this photograph of an uncontacted tribe proves they exist. The government is giving over 70% of its Amazon forest to oil and gas exploration. It will destroy the tribes that live there.'
Other companies including Repsol YPF, ConocoPhillips, Petrolifera, Petrobras, Pluspetrol and Hunt Oil are all working on land inhabited by uncontacted tribes. Contact could decimate the Indians.
Note: the Indians in the ad are not from one of the tribes potentially affected by the pipeline.
Support Survival's campaign for uncontacted Peruvian tribes by publishing this ad. 
Contact Miriam Ross or Tess Thackara (details below).
Miriam Ross:
T: (44) (0)7504543367
E mr@survivalinternational.org
In the US:
Tess Thackara (after 12 pm EST)
T: (+1) 510 981 1790
E: tt@survivalinternational.org
The ad is based on a photo with the copyright Heinz Plenge Pardo/Frankfurt Zoological Society.
Your efforts are crucial in defending the Uncontacted Tribes. Get involved in this urgent effort in the following ways.