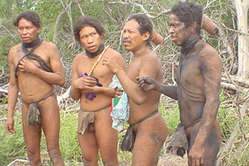 Four Ayoreo-Totobiegosode men make first contact with the outside world in 2004.
© GAT / Survival
A man belonging to the only uncontacted tribe in South America outside the Amazon basin has been sighted near a region targeted for deforestation by Brazilian cattle-ranchers.
When spotted, the man hid behind a tree, and later fled. The next day an abandoned camp, a clay dish, and game ready for cooking were found nearby.
The man is one of an unknown number of uncontacted Ayoreo-Totobiegosode Indians living in the dry forests of northern Paraguay. The Totobiegosode have lost huge swathes of their land in recent years to cattle-ranchers, such as the Brazilian firm Yaguarete Pora S.A.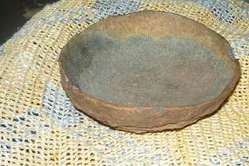 A clay dish for toasting seeds was found where the isolated Indian was spotted.
© GAT/Survival
The man was seen just to the south of the area owned by Yaguarete. In a letter to the Paraguayan government about the sighting, already-contacted Totobiegosode leaders said, 'We are very concerned about [our relatives still in the forest]. They're threatened by the deforestation in that region.'
Yaguarete was recently fined $16,000/£10,500 by the Paraguayan authorities for concealing the existence of the Totobiegosode in the area where it was given a licence to work. Earlier this year, the company won Survival's 'Greenwashing Award' 2010 for 'dressing up the wholesale destruction of a huge area of the Indians' forest as a noble gesture for conservation.'
Survival director, Stephen Corry, said today, 'This is further proof the Indians exist. It's going to make things even more difficult for cattle-ranchers like Yaguarete in the future.'
Write a letter or email to Grupo San Jose asking it to hand back the Ayoreo's land to its rightful owners.
Write a letter or email to the government of Paraguay asking it to demarcate the Ayoreo's land in line with the country's laws and treaties.
Donate to the Ayoreo campaign (and other Survival campaigns).