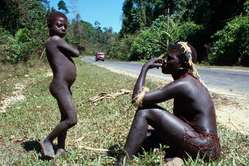 A Jarawa woman and boy by the side of the Andaman Trunk Road
© Salomé
A report published by UNESCO has called for the immediate closure of the Andaman Trunk Road, which cuts illegally through the Jarawa tribal reserve.
India's Supreme Court ordered in 2002 that the highway must be closed to protect the Jarawa, but the Indian government has kept it open.
Survival International is also calling for the closure of the road.
The Jarawa resisted contact with outsiders on India's Andaman Islands until 1998. The UNESCO report brings together research on the tribe and their territory, which is also home to endangered animal and plant species and is the most significant tract of rainforest remaining on the islands.
The report's recommendations also include protection of the Jarawa's territory from violation by poachers and other outsiders, and education of local Indian settlers and government officials about the Jarawa and their rights.
It concludes that self determination 'has to be the ultimate aim of any process that will involve the Jarawas – to help them negotiate with a rapidly changing, predatory world that exists around them.'
Survival's Andamans campaign focuses on the Jarawa, because their situation is the most precarious of the four tribes. Your support is vital for the Jarawa's survival. There are lots of ways you can help.