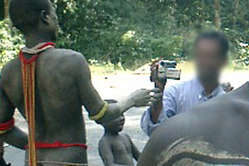 Tourist films Jarawa on the Andaman Trunk Road
© Survival
The Association of Tour Operators in India's Andaman islands has come out in support of Survival's call for tourists to stop using the illegal road that cuts through the forest of the recently contacted Jarawa tribe.
President of the Andaman Association of Tour Operators, Shri M Vinod, told Survival, 'We don't support 'Jarawa tourism'. We have written to the administration asking for an alternative route so the tourists do not have to use the Andaman Trunk Road'.
Survival and local Andaman organization, Search, in June launched a tourist boycott of the illegal road, which takes thousands of tourists a month through the heart of the Jarawa's land.
Tourists are risking the lives of the hunter-gatherer tribe, who have only had friendly contact with outsiders since 1998. The 365 Jarawa are likely to have little immunity to new diseases and could be devastated by an epidemic.
Last week, Sonia Gandhi, President of India's ruling political party, discussed the Jarawa's situation at a meeting of the powerful National Advisory Council. Mrs Gandhi is believed to be very concerned about the Jarawa. A recent report, commissioned by her, is said to emphasize the negative impact of the road and tourism.
Tourists treat the Jarawa like animals in a safari park by throwing biscuits and sweets for them. A number of Jarawa children have been hit by moving vehicles whilst trying to grab these treats. One tourist described his trip, 'The journey through tribal reserve was like a safari ride as we were going amidst dense tropical rainforest and looking for wild animals, Jarawa tribals to be specific'.
Survival's Director, Stephen Corry said today, 'It's great news that the tour operators want to avoid using the Andaman Trunk Road. With their support, there's surely no obstacle to a complete ban on tourists traveling through the reserve. The authorities should take notice, and provide an alternative route as soon as possible.'
Survival's Andamans campaign focuses on the Jarawa, because their situation is the most precarious of the four tribes. Your support is vital for the Jarawa's survival. There are lots of ways you can help.