Visitors to Peru's most iconic tourist attraction, Machu Picchu, are being targeted by a new online ad campaign, in a row over a Peruvian gas project nearby.
Up to one million tourists flock to the ruins of the 15th century Inca city each year, but few are aware of the dangers facing several tribes only 100 kilometers away.
A UNESCO World Heritage site, and officially one of the new 7 Wonders of the World, tourism makes Machu Picchu a major revenue generator for the country.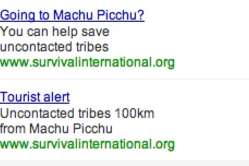 © Survival
The new adverts, which appear next to Google searches relating to Machu Picchu, call for visiting tourists to take action over the impact of gas exploration on uncontacted tribes.
Peru's Nahua-Nanti Reserve for uncontacted Indians lies in the same 'Sacred Valley' as the ancient site, but despite its protected status, it is being opened up for gas drilling.
Peru's largest and most notorious energy project, known as the Camisea gas fields, lies deep in the reserve.
Owned by a consortium of foreign gas companies including Pluspetrol, Hunt Oil and Repsol, the project has now been granted permission to expand further into the area, despite the risk to tribal communities.
Crucially, the Nahua-Nanti Reserve acts as a buffer zone to another hugely important tourist attraction, the Manú National Park.
Recognized as one of the most biologically diverse places on earth, it is now feared further gas expansion plans could destroy parts of this UNESCO site.
A recent row over the proposed 'Fitzcarrald' site has even embroiled music legend Sir Mick Jagger, who Survival has asked to intervene to stop the plans.
Survival's Director Stephen Corry said today, 'Tourists visiting Machu Picchu, who have an interest in Peru's history and culture should take notice of these adverts and take action. Uncontacted tribes' land must be protected, or they too will be wiped out, like the Incas were in the 17th century.'
Learn more about the effects of oil and gas extraction on uncontacted tribes in Peru in Survival's photo-gallery
Your efforts are crucial in defending the Uncontacted Tribes. Get involved in this urgent effort in the following ways.