Protests against Spanish oil giant's plans for uncontacted tribes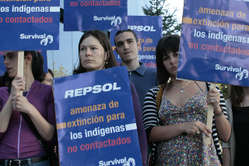 Demonstrators gathered outside the headquarters of oil giant Repsol-YPF today.
© A. Luis/Survival
Demonstrators gathered outside the headquarters of oil giant Repsol-YPF today to protest at its plans to explore for oil on uncontacted tribes' land. Repsol, holding its AGM today, refuses to accept that the uncontacted tribes exist.
The protesters held signs reading 'Repsol: extinction threat for uncontacted tribes' outside the company's offices in Madrid. Repsol, a Spanish-Argentine company, has announced plans to cut 454 kilometres of seismic lines and build 152 heliports in a remote area of the Peruvian Amazon – home to at least two uncontacted tribes.
Repsol has claimed it has 'studied the subject in some detail and has not been able to obtain any solid evidence for the supposed existence of these people.' In reality, there are over thirty separate pieces of evidence for the tribes' existence.
The region where Repsol hopes to work, known as 'Lot 39', is in northern Peru near the border with Ecuador. A team of environmental scientists recently argued it is one of the most biodiverse areas in South America.
Survival director, Stephen Corry, said today, 'Repsol's work in northern Peru violates the uncontacted tribes' rights under international law and makes a mockery of the UN Declaration on Indigenous Rights. It is endangering the lives of some of the world's most vulnerable people, not to mention Repsol's own workers, and the company cannot operate there safely or ethically. We urge it to abandon its plans to work there.'