Quentin Blake designs Christmas cards for Survival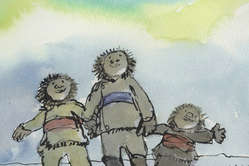 Illustrator and and Survival supporter Quentin Blake has designed cards for Survival's Christmas catalogue
© Survival
The world's best-loved illustrator Quentin Blake has designed three exclusive Christmas cards for Survival's 2010 Christmas catalogue.
The three designs inspired by tribal peoples, are sold as part of Survival's popular Christmas card range. Unusually for a charity, Survival publishes its own cards which means all of the income goes to them, and not just a few pennies, helping to fund their vital work for tribal peoples.
Quentin Blake said: "I am delighted to help Survival again this year. Survival is important for two reasons. One is that I think it's right that we should give help and support to people who are threatened by the rapacious industrial society we have created. The other that it gives an important signal about how we ought to be looking after the world. Its message is the most fundamental of any charity I'm connected with."
The 'Quentin Blake for Survival' Christmas cards come in a trio pack of 12, four cards each of three designs with white envelopes. Card size: 14 × 14cm. 50% recycled, 50% FSC. They are available to buy from www.survivalinternational.org/shop price £5.99 per pack. Buy four, get a fifth free.
For further information please contact Ghislain Pascal at Survival on 07778-788735.