Uncontacted tribal people face total destruction from mining for electric car batteries
Uncontacted tribal people in Indonesia who choose to live in the rainforest far from outsiders could be wiped out by a massive nickel mining project. Many are already on the run from mining which is tearing up their ancestral lands and damaging their rivers.
An estimated 300 to 500 uncontacted Hongana Manyawa people live in the forested interior of the island of Halmahera. Huge areas of their territory have now been allocated to mining companies, and in some areas the excavators are already at work.
The project is part of Indonesia's plan to become a major producer of electric car batteries, by mining and smelting nickel and other minerals – a plan into which international companies like Tesla are already pouring billions of dollars. French, German and Chinese companies are involved in mining in Halmahera. The uncontacted Hongana Manyawa, despite contributing nothing to climate change, now risk being wiped out by the industrialized world's switch to electric cars. The Hongana Manyawa need our urgent support.
Guardians of their forest
The Hongana Manyawa – which means 'People of the Forest' in their own language - are one of the last nomadic hunter gatherer tribes in Indonesia, and many of them are uncontacted.

They have a profound reverence for their forest and everything in it: they believe that trees, like humans, possess souls and feelings. Rather than cut down trees to build houses, they make their dwellings from sticks and leaves. When forest products are used, rituals are performed to ask permission from the plants, and offerings are left out of respect.

The Hongana Manyawa root their whole lives to the forest, from birth to death. When a child is born, the family plant a tree in gratitude, and bury the umbilical cord underneath: the tree grows with the child, marking their age. At the end of their lives, their bodies are placed in the trees in a special area of the forest that is reserved for the spirits.


Providing for themselves almost entirely from hunting and gathering, the Hongana Manyawa are nomadic; setting up home in one part of the forest before moving on and allowing it to regenerate. They have unrivalled expertise in the Halmahera rainforest, hunting wild boar, deer and other animals and maintaining a close connection with the sago trees – now threatened by deforestation from mining - which provide their main source of carbohydrate. They also have incredible medicinal knowledge and can treat many sicknesses with local plants, although this has become increasingly difficult following the new diseases brought by forced contact and resettlement in villages.





Avoiding contact to stay alive
This incredible footage, taken in 2021, shows an uncontacted Hongana Manyawa man, throwing things and singing angrily to ward off the outsiders who have come into his territory:

The arrival of the mining companies is just the latest threat to the Hongana Manyawa and their land. In recent decades, Indonesian governments have repeatedly tried to force contact onto the Hongana Manyawa, with the aim of stopping their nomadic way of life and evicting them from their ancestral forest home. They say this is to "civilize" them: they have tried to settle the Hongana Manyawa and have built Indonesian-style houses for them. The Hongana Manyawa say these new houses, with roofs made of metal sheets rather than palm leaves, made them feel "like animals in a cage".

One Hongana Manyawa woman told Survival:




As with uncontacted tribes the world over, forced contact has proved disastrous for the Hongana Manyawa. They were immediately exposed to diseases to which they had no immunity – from the late 1970s to the early 1990s, terrible outbreaks of diseases which the Hongana Manyawa refer to as "the plague" affected the newly-settled villages, leading to widespread suffering and even death.




The contacted Hongana Manyawa also serve as convenient scapegoats for the police, who frequently blame them for crimes they have had nothing to do with. Several of them have been imprisoned for murders they did not commit and have languished in jail for many years.


Far from being respected for their unique and self-sufficient ways of living, the Hongana Manyawa experience severe racism and are regularly described by Indonesian officials and the media as 'primitive'. There is a widespread belief that they would benefit from 'integration' into wider society: a belief that comes with disastrous and deadly consequences.

Many Hongana Manyawa are now living in government-built villages. Many others - traumatised by the government's forced settlement attempts, like other peoples around the world who have experienced forced contact - have returned to their forest.

The uncontacted Hongana Manyawa have made it clear time and time again that they do not want to settle or have outsiders coming into their forest. They are very much aware of the dangers - including fatal epidemics of disease - which forced contact brings. As with the uncontacted Sentinelese tribe of India, it is little wonder that they are defending their lands and shooting arrows at those who force their way in.

But now they face the threat not just of being forced out of the forest that sustains them, but of seeing it all destroyed by corporations rushing to provide a supposedly 'sustainable' and 'environmentally friendly' lifestyle to people thousands of miles away.
'Green' mining threatens the lives of uncontacted tribal people
The greatest threat to the Hongana Manyawa today comes from a supposedly 'green' industry.
Their rainforest sits on lands rich in nickel, a metal increasingly sought after as an ingredient in the manufacture of electric car batteries. Indonesia is now the world's largest producer of nickel, and Halmahera is estimated to contain some of the world's largest unexploited nickel reserves. Nickel is not essential for these batteries, but now that the nickel market is booming, mining companies are homing in and tearing up huge swathes of rainforest.

The uncontacted Hongana Manyawa are on the run. Without their rainforest, they will not survive. These cars are marketed as ecofriendly alternatives to fossil fuel powered cars, but there is nothing ecofriendly about the way nickel is being mined in Halmahera.
It goes without saying that uncontacted tribes cannot give their Free, Prior and Informed Consent to exploitation of their land - which is legally required for all 'developments' on Indigenous territories under international law.
Nevertheless, Weda Bay Nickel (WBN) – a company partly owned by French mining company Eramet – has an enormous mining concession on the island which overlaps with Hongana Manyawa territories. WBN began mining in 2019 and now operates the largest nickel mine in the world. Huge areas of rainforest which the Hongana Manyawa call home have already been destroyed. The company plans to ramp up the mining to many times its current rate and operate for up to 50 years.

These satellite images from 2016 and 2022 show the scale of destruction at the Indonesia Weda Bay Industrial Park (IWIP), the central hub for mining in Halmahera. If such mining and nickel processing is allowed to continue unabated, the Hongana Manyawa's rainforest will soon be gone. ©Planet Labs Inc. / produced by Earthrise.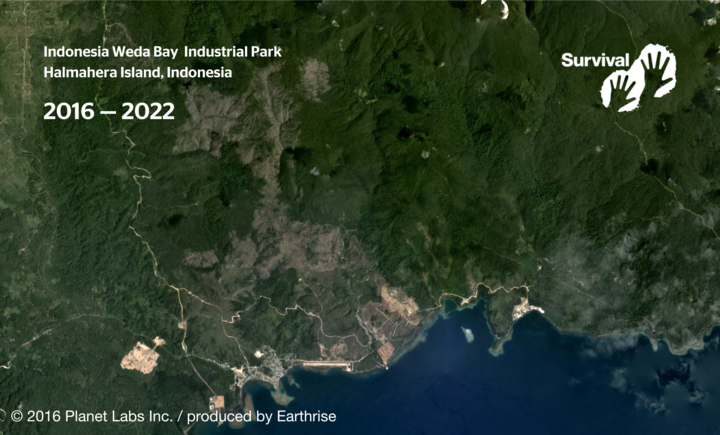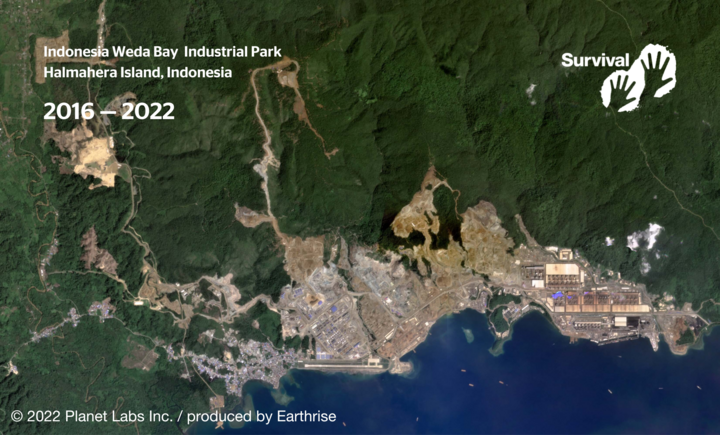 The Indonesian government claims that nickel mining is "critical for clean energy technologies" yet coal-fired power stations are being constructed at IWIP to process the nickel. The International Energy Agency estimates that 19 metric tons of carbon are released for every metric ton of nickel smelted and there is evidence from a similar project in Sulawesi of this leading to respiratory diseases for locals. Not only is this mining (accompanied by roads, smelters and other huge industrial projects) devastating the Hongana Manyawa's rainforests, it is also polluting the air and damaging the rivers. The processing of nickel is often highly toxic, involving a host of chemicals which produce almost two metric tons of toxic waste for every metric ton of ore processed.

Survival is fighting against false solutions to the climate crisis, which are destroying Indigenous lands and lives.


Eramet, Tesla and other companies
International companies are involved, directly or indirectly, in the mining of uncontacted Hongana Manyawa land.
WBN is a joint venture between several companies, but French company Eramet is part-owner and responsible for the mining itself. Eramet prides itself on its environmental and human rights credentials, claiming that it will "set the standard" and "be a benchmark company" when it comes to human rights. Yet it continues to mine on the territories of the uncontacted Hongana Manyawa.
German chemical company BASF is also in discussions to partner with Eramet to build a refining complex in Halmahera. Survival is calling upon BASF not to sign a deal with Eramet while it continues to operate on uncontacted people's territories.
Watch this Tribal Voice interview with two Hongana Manyawa elders, decrying the destruction of their rainforest and stating plainly that they do not give consent for nickel mining companies to take their land:
Survival has been told that uncontacted Hongana Manyawa are now fleeing further and further into the rainforest, traumatized by the attacks on their forests and way of life.


The Indonesian government is extremely keen to attract international buyers for its nickel. Tesla, the world's largest electric vehicle company, has signed contracts worth billions of US dollars to buy Indonesian nickel and cobalt for its batteries. Its CEO Elon Musk has also had high level negotiations with the Indonesian government and Indonesia's President Joko Widodo has even offered Tesla a 'nickel mining concession.'
Other vehicle companies such as Ford and Volkswagen have links to the Indonesian nickel industry and Survival is calling upon all electric vehicle makers to pledge not to take materials from the territories of the uncontacted Hongana Manyawa.
Demand for electric cars is driving the destruction of uncontacted people's lands.

Rather than destroying yet more of the natural world, and the people who defend it, in the name of combating climate change, we should be supporting uncontacted tribes to defend their rainforests and their land rights; they are the guardians of the green lungs of the planet.

Take Urgent Action for the Hongana Manyawa
The Hongana Manyawa are running out of forest and running out of time. They desperately need international support to stop the destruction of their homelands before it's too late.

The Hongana Manyawa's land rights must be recognised. Survival is calling for the declaration of an emergency zone for the uncontacted Hongana Manyawa. Around the world, Survival has successfully campaigned for the land rights of uncontacted tribes, defending them from outsiders bringing in deadly diseases and devastating development projects which could destroy them.
We are calling for:
- Eramet and the other companies mining in Halmahera, to immediately abide by international law and stop mining and other developments on the lands of uncontacted tribal people.
- Tesla and other car companies to publicly commit to ensure that none of the nickel or cobalt they buy ever comes from the lands of the uncontacted Hongana Manyawa in Halmahera.
- The Indonesian government to establish an 'Uncontacted Tribe No-Go Zone" to protect the uncontacted Hongana Manyawa and their territories.
With your support, the territories of the uncontacted Hongana Manyawa can be protected from mining so that they can continue to live as they choose on their own land.

Join the mailing list
More than one hundred and fifty million men, women and children in over sixty countries live in tribal societies. Find out more about them and the struggles they're facing: sign up to our mailing list for occasional updates.
News from The Hongana Manyawa