Highway endangers uncontacted Amazon Indians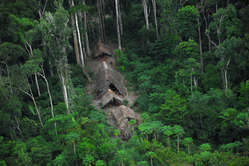 Uncontacted Indians seen from the air during a Brazilian government expedition over the Brazilian Amazon near the Peruvian border, May 2008.
© G. Miranda/FUNAI/Survival
Brazil's Attorney General's office has warned that uncontacted Indians in the Amazon are at risk of extinction due to a highway that runs through Rondônia state to the Bolivian border.
The Attorney General's office has condemned the Department of Infrastructure and Transport for breaking environmental licensing laws, and has ordered asphalting work on the BR-429 road to be suspended. It has highlighted that the department did not take into account the impact of upgrading the road on indigenous peoples in the region.
The new highway runs through the municipality of São Miguel do Guaporé, where according to the government's indigenous affairs department, FUNAI, 'large groups of Indians are living in the area affected by BR-429.'
Tari, an Amondawa Indian leader, laments: 'I never imagined that one day São Miguel would be transformed into pasture and that the forest where I have been walking all my life would one day completely disappear.'
The Attorney General's office is concerned that paving the road will increase the illegal extraction of natural resources from protected areas and will cause confrontations between indigenous peoples and those invading their territory. It warns that uncontacted Indians could die as a result of conflict.
The paving of the highway will directly affect the uncontacted Jurureí Indians, according to federal prosecutor Daniel Fontenele, and may lead to contact between the tribe and outsiders.
The Massacó indigenous territory, inhabited solely by uncontacted Indians, probably of the Sirionó tribe, is another area at risk of invasion.