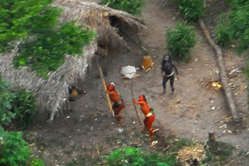 Uncontacted Indians in Brazil seen from the air during a Brazilian government expedition, May 2008.
© G. Miranda/FUNAI/Survival, 2008
One year after photos of uncontacted Amazon Indians made headlines around the world, a new report from Survival International reveals the five uncontacted tribes most at risk of extinction.
They are:
* Indians of the Pardo River, Brazil
* The Awá, Brazil
* Indians between the Napo and Tigre Rivers, Peru
* Indians of the Envira River, Peru
* The Ayoreo-Totobiegosode, Paraguay
These groups are all experiencing the invasion of their lands – by loggers, ranchers, colonists and oil companies – and all are at grave risk of being decimated by diseases to which they have no immunity.
The Awá, Rio Pardo Indians and Envira River Indians are all falling victim to the blight of illegal hardwood logging which is penetrating even the remotest parts of the Amazon.
The Ayoreo-Totobiegosode of the Chaco scrub forests in western Paraguay, on the other hand, are experiencing the illegal clearance of their forests by cattle ranchers. Satellite photos taken over the past year have revealed huge areas illegally cleared in the Indians' heartland.
In the far north of Peru, the Indians living between the Napo and Tigre Rivers are caught in the middle of Peru's oil boom. In recent years 75% of Peru's Amazon has been carved up into oil and gas exploration concessions. Peru's President has denied the existence of isolated Indians in the Napo/Tigre area, despite abundant evidence of their existence.
Survival's report calls on the governments of Paraguay, Brazil and Peru urgently to protect the tribes' lands.
Survival's director Stephen Corry said today, 'Publication of the photos a year ago caused a huge groundswell of support for the plight of uncontacted tribal people. Many had not realised that such people exist, let alone that there are more than 100 uncontacted tribes around the world. But many governments still refuse to take the simple step – properly protecting their territories – that will actually ensure the tribes' survival.'
Read Survival's report and access images and video clips
Download report (PDF)
Note to Editors:
One month after Survival released the photos of the uncontacted Indians to the world's press, Britain's The Observer newspaper cast doubt on the story. Their article in turn prompted further reports falsely alleging that the photos were a hoax. In August 2008 The Observer printed a retraction, admitting that its article was 'inaccurate, misleading [and] distorted', and making clear that the photos and Survival's accompanying press release were 'perfectly valid'.

For more information and images please contact Miriam Ross at Survival International on (44) (0)7504 543 367 or email mr@survival-international.org


Your efforts are crucial in defending the Uncontacted Tribes. Get involved in this urgent effort in the following ways.