This page was last updated on March 13, 2019 and may contain language which is now outdated.
Swept to the edge of extinction by warring outsiders
The Nukak's remote rainforest has been overrun by colonists growing coca for the lucrative cocaine trade. Now many Nukak have fled their land after becoming caught up in the violence of Colombia's civil war.
Since first regular contact in 1988, more than 50% of the entire tribe have died. The Nukak are one of at least 32 Colombian tribes 'at imminent risk of extinction'.
The Nukak live between the Guaviare and Inírida rivers in south-east Colombia.
They are one of six groups known as the 'Maku' peoples, all nomadic hunter-gatherers living in the headwaters of the northwest Amazon basin.
Traditionally, the Nukak live in small groups, between nine and thirty people, in the very deep forest away from the rivers.
They are constantly on the move, spending just a few days in any one place.
Because they are so mobile, they have very few possessions, and what they have is easily portable.
Nukak houses tend to be very light structures made of wood and palm-leaves, just enough to provide a roof to sling a hammock under.
Each family has its own hearth, used to keep warm, cook, and to burn certain plants to keep mosquitoes away.
The Nukak eat fish, game, turtles, fruit, vegetables, nuts, insects and honey.
The men hunt using blowguns, with darts tipped with curare, a poison made from up to five different plants.
Contact
The Nukak avoided almost all regular contact with outsiders until 1988 when a group of about forty of them turned up unexpectedly at a recently-founded colonists' town called Calamar.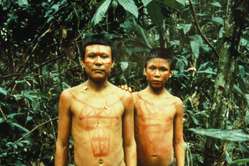 Nukak men photographed in 1991, Colombia © Gustavo Pollitis/Survival
Although they were on what they considered to be their ancestral territory, their sudden arrival at Calamar created a sensation in the Colombian and international press.
But the consequences of regular contact were appalling. In the following years, partly as a result of loggers and coca growers encroaching on their land, more and more Nukak came into contact with outsiders and many were devastated by diseases such as malaria and flu.
In total, more than 50% of the entire tribe died.
It was only around this time that it was revealed that Christian missionaries from the controversial 'New Tribes Mission' had made contact with the Nukak in the 1970s.
Extinction point
In 1993, thanks to Survival, ONIC, and other organizations' international campaign for the Nukak, the Colombian government finally recognized the tribe's right to their ancestral land. The 'Nukak Reserve' was expanded in 1997 to encompass almost 1 million hectares of forest.
Cocaine
Today the Nukak's land is occupied by coca growers and overrun by the bloody violence of Colombia's civil war.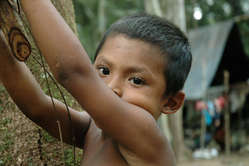 Nukak boy in south-east Colombia © David Hill/Survival
Left-wing guerrillas, right-wing paramilitaries and the Colombian army all have troops there fighting over the coca, the raw material for cocaine.
As a result, many Nukak have been forced to flee their homes and seek refuge on the outskirts of a town called San Jose del Guaviare. Other Nukak were forced to leave at gun-point.
In 2006 the government tried to move the displaced Nukak back to the rainforest, but the chosen location, only fourteen kilometres from San Jose, was far too small.
After a flu epidemic and the tragic suicide of one of their spokesmen, Mao-be, the Nukak abandoned the area and went back to San Jose.
The majority of the Nukak are desperate to return home, but as long as there is a civil war there it is very difficult and very dangerous to do so.
'Imminent risk of Extinction'
The Nukak are one of at least 32 tribes in Colombia believed to be at 'imminent risk of extinction', according to the country's national indigenous peoples' organisation, ONIC.
These tribes, including the Wipiwi, Amorúa, and Wachina, suffer from Colombia's internal armed conflict, neglect from the government, and the invasion of their land for natural resources.
ONIC has launched an international campaign, supported by Survival and others, to raise awareness of the tribes' plight.
Act now to help the Nukak
Campaigning for the Nukak's rights has already made a huge difference. After campaigns led by Survival and local indigenous organisations, the Colombian government created a Nukak reserve in 1993 and enlarged it in 1997.
What the Nukak want now is for the boundaries of their reserve to be respected and for them to be able to live there in peace.
Please write to the Colombian government to urge them to ensure the Nukak can return to their land.
Join the mailing list
More than one hundred and fifty million men, women and children in over sixty countries live in tribal societies. Find out more about them and the struggles they're facing: sign up to our mailing list for occasional updates.