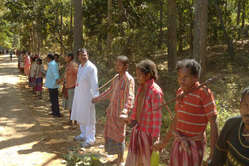 The Dongria Kondh form a human chain to express their opposition to Vedanta\'s mine. © Survival
Hundreds of members of the Dongria Kondh tribe, together with many tribal and non-tribal allies, formed a human chain at the base of their sacred Niyamgiri mountain on the 27th January to prevent British mining giant Vedanta from bulldozing it.
Some reports put the number of people taking part in the protest at over 10,000. Placards carried by the protesters bore slogans including 'Vedanta, go back' and 'Stop mining in Niyamgiri'.
It was the second large-scale demonstration in ten days: on 17 January up to 7,000 protesters marched to the gates of Vedanta's aluminium refinery in the nearby town of Lanjigarh.
Vedanta plans to dig an open pit mine on the top of Niyamgiri to extract the aluminium ore bauxite. India's Supreme Court gave the mine so-called 'forest clearance' in August last year.
The mine is yet to get 'environmental clearance', but the company is already trying to build roads for the mine. Road blocks by the Dongria and other Kondh tribes have so far kept construction vehicles off the mountain.
Vedanta's chairman Anil Agarwal recently told journalists that mining will begin in 'a month or two'.
Survival's director Stephen Corry said today, 'By these protests the Dongria Kondh are showing just how far the authorities have failed them. The fact that the machines are run by a major British company should be a cause for shame in the City of London. This is a scandal which won't go away until Vedanta leaves the tribe in peace.'