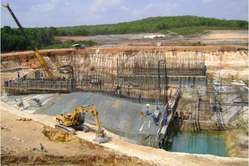 Hydropower dams are being built across the Amazon in the name of combating climate change. © Fiona Watson/Survival
Measures to stop global warming risk being as harmful to tribal peoples as climate change itself, according to a new report from Survival.
The report, 'The most inconvenient truth of all: climate change and indigenous people', sets out four key 'mitigation measures' that threaten tribal people:
1. Biofuels: promoted as an alternative, 'green' source of energy to fossil fuels, much of the land allocated to grow them is the ancestral land of tribal people. If biofuels expansion continues as planned, millions of indigenous people worldwide stand to lose their land and livelihoods.
2. Hydro-electric power: A new boom in dam construction in the name of combating climate change is driving thousands of tribal people from their homes.
3. Forest conservation: Kenya's Ogiek hunter-gatherers are being forced from the forests they have lived in for hundreds of years to 'reverse the ravages' of global warming.
4. Carbon offsetting: Tribal peoples' forests now have a monetary value in the booming 'carbon credits' market. Indigenous people say this will lead to forced evictions and the 'theft of our land'.
The report calls for tribal people to be fully involved in decisions that affect them, and for their land ownership rights to be upheld.
Survival Director Stephen Corry said today, 'This report highlights 'the most inconvenient truth of all' – that the world's tribal people, who have done the least to cause climate change and are most affected by it, are now having their rights violated and land devastated in the name of attempts to stop it. Hiding behind the global push to prevent climate change, governments and companies are mounting a massive land grab. As usual, where money and vast profits are at stake, the world's indigenous people are being shamefully swept aside.'