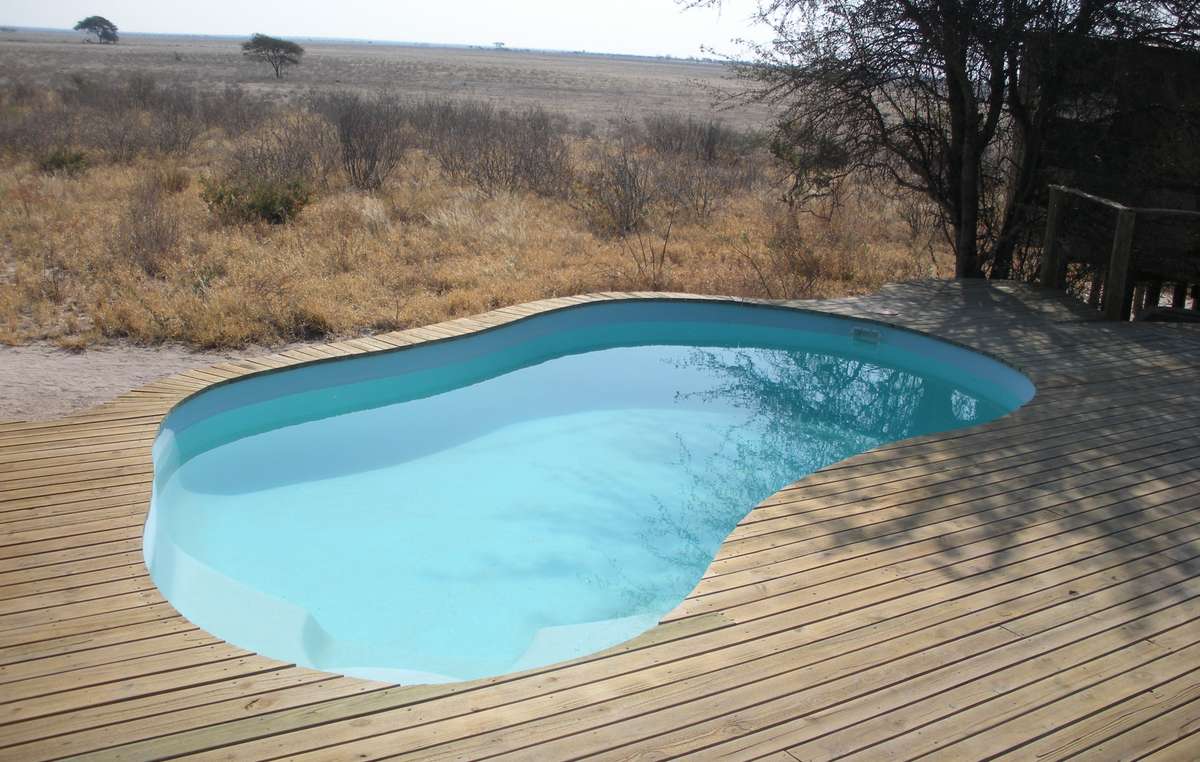 The pool of Wilderness Safaris' new lodge in the Central Kalahari Game Reserve, Botswana. The tourist lodge was developed and built without the consent of the Bushmen, who have been living on this land for centuries. © Survival International
This page was last updated on August 15, 2018 and may contain language which is now outdated.
Controversial tour operator Wilderness Safaris has won a 'World Savers Award', despite erecting a luxury tourist lodge with swimming pool on the land of Kalahari Bushmen who are struggling for water.
Wilderness Safaris opened the Kalahari Plains Camp inside the Central Kalahari Game Reserve in 2009, having failed to consult the Bushmen on whose ancestral lands the lodge sits. The lodge sports a bar and swimming pool for tourists, while Bushmen in the reserve are banned from accessing a well which they rely on for water.
Responding to Survival's allegations, Wilderness Safaris says it cannot provide water to Bushmen in the reserve, claiming 'it is not a water utility and its business model is not robust enough to carry this responsibility'. However, it recently constructed windmills on a concession in Zimbabwe to pump water for wildlife, adding, 'it is gratifying to see them slake their thirst on the new water'.
The Botswana government has banned the Bushmen from accessing a well which it sealed and capped when it evicted them from the reserve in 2002. With Survival's support, the Bushmen won a High Court ruling that they have the right to live in the reserve. However, the government refuses to allow them to re-commission the well, forcing them to make arduous journeys to fetch water from outside the reserve.
Both the President of Botswana's nephew, and his personal lawyer, sit on Wilderness Safaris' board of directors.
Wilderness Safaris won the health award and will be honoured at the Condé Nast Traveler World Savers Congress in Singapore in October.
Survival's director, Stephen Corry, said today, 'Tourist companies should no longer be able to brush off the rights of tribal peoples on whose lands they put their hotels and lodges. It's not good enough to say it's just the concern of the government and nothing to do with the company: these are the arguments used for decades to assist the dispossession of tribal peoples. Tourism has no role in places like the Bushmen's reserve in Botswana while the Bushmen are being forced out.'