WikiLeaks: US renewed Indonesia military ties after 'threat'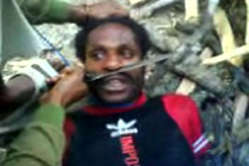 Footage of Indonesian soldiers torturing two Papuans caused widespread outrage and revulsion.
© Survival
US government cables released by WikiLeaks have revealed that Indonesia threatened to derail President Obama's visit to Jakarta this year unless America reversed its ban on military assistance to Indonesia's notorious elite special forces, Kopassus.
The US had barred Kopassus from receiving its military training and co-operation for more than a decade because of human-rights abuses including killings, disappearances and torture. The ban was lifted in July this year.
A cable from the US Embassy in Jakarta reveals that Indonesia's President Susilo Bambang Yudhoyono had told the US that the Kopassus ban was a 'litmus test of the bilateral relationship' between the US and Indonesia, and that the 'visit of President Obama will not be successful unless this issue is resolved in advance of the visit.'
Survival International has called on the US to suspend all military assistance to Indonesia until its forces stop killing and torturing the people of West Papua.
Shortly before Obama's visit to Indonesia in November, shocking video footage emerged showing Indonesian soldiers torturing two villagers in the West Papuan Highlands.
The tribal peoples of West Papua have suffered decades of horrific violence at the hands of the Indonesian military.