Background briefing
Niyamgiri Hills, India
The Niyamgiri Hills form a mountain range in the Eastern Indian state of Orissa.
They are home to more than 8,000 of the Dongria Kondh people, whose lifestyle and religion have helped nurture the area's dense forests and unusually rich wildlife.
The Dongria Kondh have successfully fought off Vedanta Resources, a company that was determined to mine their sacred mountain's rich seam of bauxite (aluminium ore).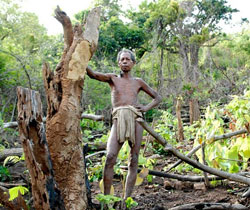 Dongria Kondh man in Niyamgiri's forests.
© Jason Taylor
Sacred
At the centre of the struggle was the Dongria's sacred mountain, the 'mountain of law'. The Dongrias worship the top of the mountain as the seat of their god and protect the forests there.
Survival's short movie captures the voice of the Dongria Kondh as they face Vedanta's incursions.
Vedanta Resources wanted to mine the bauxite from the top of the same mountain.
The Dongria Kondh would lose their livelihood, their identity and the sanctity of their most religious site.
In common with other displaced tribal peoples worldwide, they would also lose their present good health, their self-sufficiency and their expert knowledge of the hills, forests and farming systems that they have nurtured.