Write a letter for the Enawene Nawe
1. Write your letter

, then 2. Complete it and 3. Mail it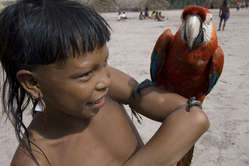 Enawene Nawe boy with his pet macaw, Brazil.
© Fiona Watson/Survival
The Enawene Nawe live in an area of savannah and tropical rainforest in Mato Grosso state, western Brazil. Although most of their land was officially reconised in 1996, a crucial area called the Rio Preto, where the Indians gather each year to trap and smoke fish, was left out.
The area is being heavily invaded by ranchers, and in a further blow the Mato Grosso state government has announced it will build a vast complex of hydroelectric dams upriver of the Enawene Nawe's land.
How you can help
Please write to the Brazilian government using the text below or your own words.