Write a letter for dam-affected tribes of Brazil
1. Write your letter

, then 2. Complete it and 3. Mail it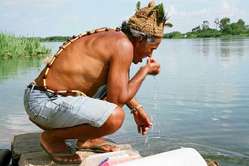 © Survival
A series of mega dams are being built as a central part of Brazil's Accelerated Growth Programme, which aims to stimulate the country's economic growth by building a huge infrastructure of roads and dams, mainly in the Amazon region.
The size of these projects threatens to harm or destroy vast areas of land, upon which numerous tribal peoples, including several groups of highly vulnerable uncontacted Indians, depend for their survival.
The Jirau and Santo Antonio dams on the Madeira River and the Belo Monte dam on the Xingu River are examples of such mega-dams.
How you can help
Write a letter to President Temer to express your concern at the dams and their effect on nearby tribal communities.
Either use the template below or amend it with your own words.