Write a letter for the Ogiek
1. Write your letter

, then 2. Complete it and 3. Mail it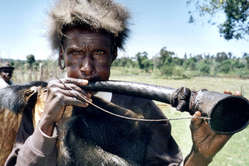 Ogiek man, Kenya
© Virginia Luling/Survival
The Ogiek are hunter-gatherers – some in the deep forest live purely by hunting and gathering, while the majority grow vegetables and keep livestock also. They have traditionally hunted such animals as antelope and wild pigs, which is now generally illegal.
An invasion of loggers, tea planters and settlers into the Ogiek's home has caused much of the Mau Forest to become severely degraded. The Kenyan government is trying to evict everyone from the forest, including the Ogiek who have been living there for centuries.
If the Ogiek are evicted from the Mau Forest it could spell disaster for the forest and for the Ogiek, who will become 'conservation refugees'.
How you can help
Please write a letter to the President of Kenya, urging him to change his plans and allow the Ogiek to live on their land.