Endangered Amazon tribe featured in the UK Sunday Times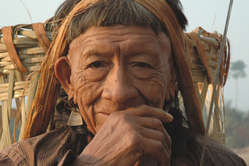 Enawene Nawe man with basket for carrying fish and garden produce.
© Fiona Watson/Survival
The Enawene Nawe, a small and remote tribe living in the Brazilian Amazon, is featured in an article in the Sunday Times Magazine by the journalist Christina Lamb.

Lamb visited the Enawene Nawe and heard first hand about their struggle to stop a massive complex of hydroelectric dams from being built on the Juruena river which flows through their land.

'The Tribe that stood their ground' was published to mark Survival International's 40th anniversary. In 1969, the Sunday Times Magazine shocked the world when it published Norman Lewis's article 'Genocide'.

Lewis traveled to Brazil in1968 where he reported on the extinction of hundreds of tribes and atrocities committed against those who had survived. His report galvanised a small group of concerned individuals who had first hand experience of living with tribal peoples and who wanted to help them. A year later, they founded Survival International.

The Enawene Nawe tell Lamb how they occupied and shut down the building site of a hydroelectric dam last October. 'Our idea was that by doing this everyone will know what the government is up to and it will be forced to act,' says Daliyamese Enawene Nawe.

In a letter to the UN, the Enawene Nawe denounce the dams saying, 'We don't want the dams dirtying our water, killing our fish, invading our lands.' The tribe does not eat red meat and relies mostly on fish for their diet. Their spiritual life revolves around the fishing rituals that take place throughout the year.

The article exposes the conflict of interest arising from the fact that the state governor, who issues licences for dam building, is building some of the dams to benefit his soya company, the largest in the world.

A public prosecutor in Brazil, Mário Lucio Avelar, says, 'There is no way these dams should be going ahead… Our own laws are not being complied with…I fear within the next 10-15 years the Enawene Nawe will lose their culture of hundreds of years.'

Read Christina Lamb's article.