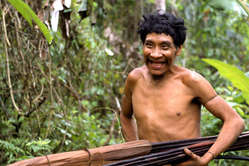 Karapiru Awá, Posto tiracambu, Caru, April 2000
© Fiona Watson/Survival
A Brazilian federal judge has ruled that ranchers and colonists illegally occupying the Awá Indian reserve must leave the territory within 180 days.
This is a major victory for the tiny nomadic hunter-gatherer tribe of 300 people in Maranhão state.
During the last two decades the Awá have suffered from the rapid and frequently violent invasion and destruction of their forest home by cattle ranchers and colonists. Outsiders have shot at Awá with guns and spread diseases against which they little or no immunity.
More recently, loggers bulldozed a large road through the heart of their land, only three kilometres from the community where the most recently contacted Awá live. This group is particularly susceptible to common diseases like flu.
The ruling, delivered on 30 June, states that anyone who does not leave the territory within the time limit will be fined. The authorities are charged with removing people, dismantling buildings and closing roads.
Survival has lobbied for many years for Awá land rights, and this year launched a new campaign calling for the judiciary to order the removal of all outsiders from the tribe's land. It is crucial that this ruling is upheld.
The Awá, also known as Guajá, are one of the few nomadic tribes in Brazil. In the 1980s their lands were opened up by the massive 'Great Carajás Project'. Brazil opened the world's largest iron ore mine and built a railway line through Awá land to transport the ore.
Many Awá were contacted during this period and settled in communities by FUNAI, the Brazilian government's Indian affairs department. Dozens died from disease or were killed in violent massacres at the hands of cattle ranchers and land grabbers.
For years the Awá have spoken of the impact of outsiders on their land and way of life. The late To'o told Survival, 'I see the karai [white people] hunting everything and setting fire to everything. Why do they do this? They will finish this place off and it's my place. This is our area and we are the owners.'
Today there are around 60 uncontacted Awá, most of whom live in the Arariboiá reserve, also the home of the Guajajara Indians. The reserve has been heavily invaded by illegal loggers and there are fears for the future of the isolated Awá here.