World Bank suspends oil palm loans after protests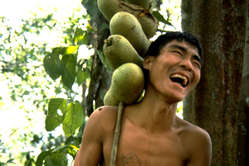 The Penan, in Malaysian Borneo, are one of many tribes around the world threatened by oil palm.
© Andy Rain/Nick Rain/Survival
The World Bank has announced it will not provide any more loans to oil palm companies until it can guarantee the loans are not causing social and environmental harm.
The announcement comes after years of protests by indigenous people and NGOs against the social and environmental destruction caused by oil palm plantations.
The World Bank's decision 'is a big win… It is the result of the long years of work by indigenous peoples in Indonesia, led by the Alliance of Indigenous Peoples of the Archipelago (AMAN), and support NGOs like Sawit Watch and Forest Peoples' Programme (FPP),' said Victoria Tauli-Corpuz, the chair of the UN's Permanent Forum on Indigenous Issues.
The decision was made less than a month after a World Bank internal report concluded its loans to the Wilmar oil palm trading group, operating in Indonesia, were violating the Bank's own social and environmental standards. The report was triggered by a complaint from Sawit Watch and other organisations.
'When we filed our complaint we noted that Wilmar subsidiaries were illegally using fire to clear primary forests and high conservation value areas and seizing indigenous peoples' lands without their free, prior and informed consent, triggering serious conflicts. (The internal) report shows that the IFC (the World Bank's private funding arm) overrode its standards,' said a Sawit Watch spokesperson, quoted by the FPP.
'Until we have a new strategy in place, IFC will not approve any new investments in palm oil. I have also asked IFC to review the environmental and social performance of all portfolio investments in palm oil,' said the World Bank's president in a letter to NGOs.
As well as Indonesia, oil palm has also had devastating impacts in many other countries, especially Malaysia and Colombia.