Wave of child deaths strikes indigenous community in Venezuela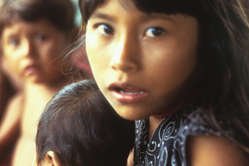 Warao child and baby, Amacuro delta, Venezuela.
© Fiona Watson/Survival
Six children in one Warao indigenous community in Venezuela have reportedly died within the space of ten days in April, as a result of malnutrition, disease, and poor health care.
Vomiting, diarrhea, fever, respiratory problems and dehydration were some of the symptoms that led to the deaths, according to Venezuela's Institute of Public Health.
The Warao of Cambalache community in eastern Venezuela live in appalling conditions close to a rubbish dump, upon which they now depend for food and materials for shelter. They have little access to clean water.
Oil exploration in the area has led to the pollution of the Warao's rivers, the spoiling of their environment and a marked deterioration in their health. The Warao were not consulted when the oil concessions were granted.
The lives of many more children are at risk as the community is rife with disease, many children are malnourished and the Warao are not receiving adequate health care. The authorities have been slow in reacting to the situation.
Antonio Valenzuela, a Warao representative from the community, said, 'How long will we have to live next to this rubbish dump? … We don't have money… we are suffering, and look how dirty the place is… Children are dying, they're finishing us off and we don't want that… that's what the government should be there for'.
Around 20,000 Warao live in the Amacuro Delta region of eastern Venezuela. Many live in thatched houses built on stilts to withstand tidal fluctuations. They have a close connection to the river water, on which they rely for drinking, food, transport and washing. Fish is a crucial part of the Warao's diet, and they make sago from the 'moriche' palm.