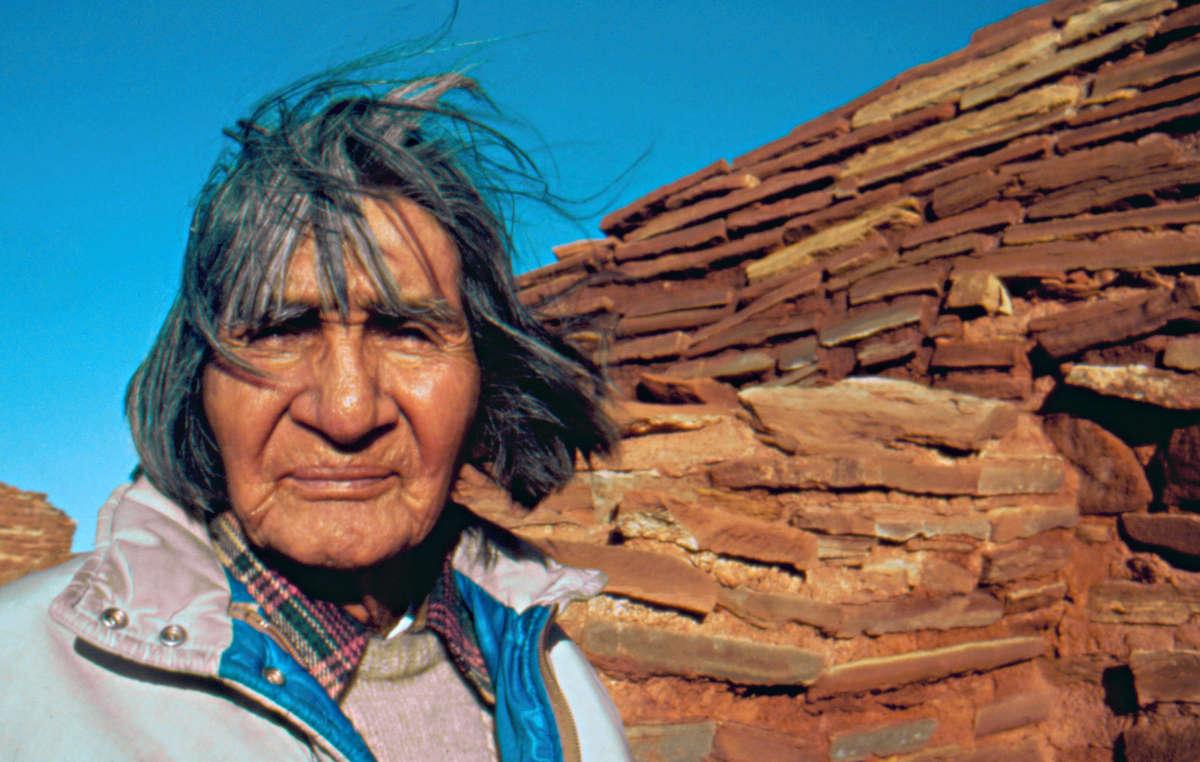 Hopi elder James Kootshongsie, who died in 1996. The Hopi are 'vehemently opposed' to the sale of the tribe's sacred objects in a Paris auction house. © Survival International
This page was created in 2013 and may contain language which is now outdated.
Lawyers acting for Survival International have today filed legal papers in an attempt to stop the sale of sacred objects of the Hopi tribe in a Paris auction house this Friday.
The Hopi tribe of Arizona had previously written to the auction house Neret-Minet Tessier & Sarrou, asking them to cancel the sale on the grounds that the objects were the cultural property of the tribe, and that their public display and sale caused them grave offence. However, the auction house appears intent on proceeding with the sale.
Lawyer Pierre Servan-Schreiber of the firm Skadden, Arps has today obtained permission from a Paris judge to summon the auction house to a court hearing, to take place on April 11 at 10.00am, to hear Survival's motion for a suspension of the auction sale, pending a proper examination of the lawfulness of the collection and its sale.
The Hopi tribe has said it is 'vehemently opposed' to the auction, and has requested that the objects are returned to them immediately.
'The Hopi Tribe must protect the cultural beliefs that we have used for centuries and still continue to use today', said Hopi Tribal Chairman LeRoy N. Shingoitewa. 'We think these sacred objects were stolen from the Hopi Tribe and should be returned to the proper custodians and caretakers, the Kachina chiefs, within their respective Hopi villages.'
Leigh Kuwanwisiwma, director of the Hopi Tribe's Cultural Preservation Office, said, 'The mere fact that a price tag has been placed upon such culturally significant and religious items is beyond offensive. They do not have a market value. Period.'
Stephen Corry, Director of Survival International, said today, 'It ought to be pretty clear to the auctioneers that the sale of these objects would cause profound hurt and distress to the Hopi people. To the Hopi, these are not museum objects but an intrinsic part of a thriving, living culture, which should be treated with respect. The auction house should think again and cancel the sale.'
Note to Editors:
- The Hopi tribe number around 18,000, living in 12 villages in northeastern Arizona. They call their homeland Hopituskwa.
- Download the Hopi's letter to the auction house Neret-Minet Tessier & Sarrou (pdf, 205 kb)