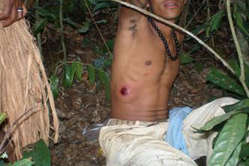 Tupinambá man shot by police, Brazil 2008
©

CIMI

/Survival
Several Tupinambá Indians in the Brazilian state of Bahia have been shot with rubber bullets, as large numbers of heavily armed federal police entered their community without warning in a conflict over land rights.

The Indians responded by attacking a police car with wooden sticks.

Much of the Tupinambá's land has been taken from them, and they have reoccupied some of it since the year 2000. But since FUNAI, the Brazilian government's Indian Affairs Department, failed to submit a report identifying Tupinambá land to the Federal Court, the Indians are under threat of eviction. Three communities have already been evicted.

The Tupinambá said in an open letter, 'They attacked our children, threw bombs, smashed our houses, took our work tools, stole our food and beat our elders. And on top of that they lied to society saying that we were armed; if we had firearms, as they say, would we defend ourselves with stones, clubs and spears?'

The Tupinambá say they are willing to resist at any cost. Many families depend entirely on the food they grow on their land. If the government does not act immediately, a serious conflict could ensue.

The police have been marking their presence in the area with dozens of officers and cars, as well as two helicopters. Several Indians have been arrested in the last few days, and there are fears that the federal police will use further excessive force.