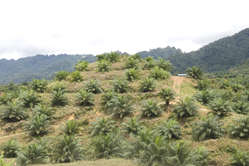 Oil palms planted on recently-deforested land, Sarawak
© M Ross/ Survival
Indigenous people in the Malaysian part of Borneo have won a second major court victory this year in their battle to stop palm oil plantations taking over their land.
A Kayan tribal community won a 12-year legal case at the end of March, when the High Court of Sarawak recognized their rights to their land. The court also nullified the leases that the Sarawak state government had issued to palm oil company IOI on their land, declaring that the leases were illegal.
The Borneo Resources Institute has urged the Sarawak state government not to appeal the court's decision. 'The natives are poor people and the disputed areas are their only means of livelihood from where they derived their source of food and income,' the organization said in a statement last week.
In January, the High Court ruled in favour of two groups of Iban and Malay people who had filed a case against the Sarawak state government and a palm oil company that wanted to establish a plantation on their land. The judge ruled that the state government had unlawfully claimed the communities' land as state land.
Much of Sarawak's rainforest has been destroyed by logging, and palm oil companies are now moving in where logging is no longer profitable. The hunter-gatherer Penan tribe have repeatedly blockaded roads to stop the logging companies clearing the forests they rely on.
More than one hundred indigenous land rights cases have been filed in the Sarawak courts, with many facing long delays.
STOP PRESS:
The Malaysian Court of Appeal has today dismissed an appeal by a group of indigenous people from Sarawak in a land rights case. The indigenous Kayan, Kenyah and Ukit people had filed a case about the Bakun hydroelectric dam, which displaced them from their land. The courts have ruled that the indigenous people may not present their evidence.
The indigenous people want the Sarawak government's extinguishment of their land rights to be declared null and void. They plan to take their appeal to the Federal Court.