Borneo tribe launch legal case to save rainforest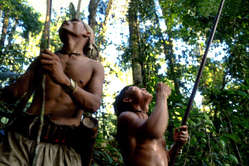 Penan men in the forest.
© Andy Rain/Nick Rain/Survival
Penan tribespeople in Sarawak, in the Malaysian part of Borneo, have launched a legal case against logging giant Samling.
The hunter-gatherer Penan want to stop Samling cutting down the rainforest they have lived in for generations.
The Penan community of Ba Jawi filed the case against Samling and also against the Sarawak state government, which issued the company with a logging licence for the area in 1993 without the Penan's consent.
The Penan of Ba Jawi claim more than 15,000 hectares of rainforest as their ancestral land, and can trace their history in the area back two centuries.
The Penan's statement of claim says, 'the Plaintiffs obtain food, valuable medicines, wildlife and other forest produce, for their livelihood and subsistence,' from the land they are claiming, and that the land also 'constitutes life itself' and is 'fundamental to the Paintiffs' social, cultural and spiritual identity.'
The case is the fifth land rights case lodged by the Penan in the Upper Baram area of Sarawak since 1998. None have so far been resolved. Since the 1970s, the Penan have been struggling to prevent the destruction of the rainforests they depend on for their survival. Many have already seen logging devastate their land, but the forests of Ba Jawi remain largely intact. Penan living outside the area also use it for hunting and gathering.
In some other Penan areas, palm oil companies are starting to clear the forest completely to make way for plantations.
Survival International is calling on the Malaysian government to uphold the Penan's land rights, and to halt all logging, plantations and other developments on their land without their consent.
Sarawak's Chief Minister Taib Mahmud has been in power since 1981. He will face elections later this year.