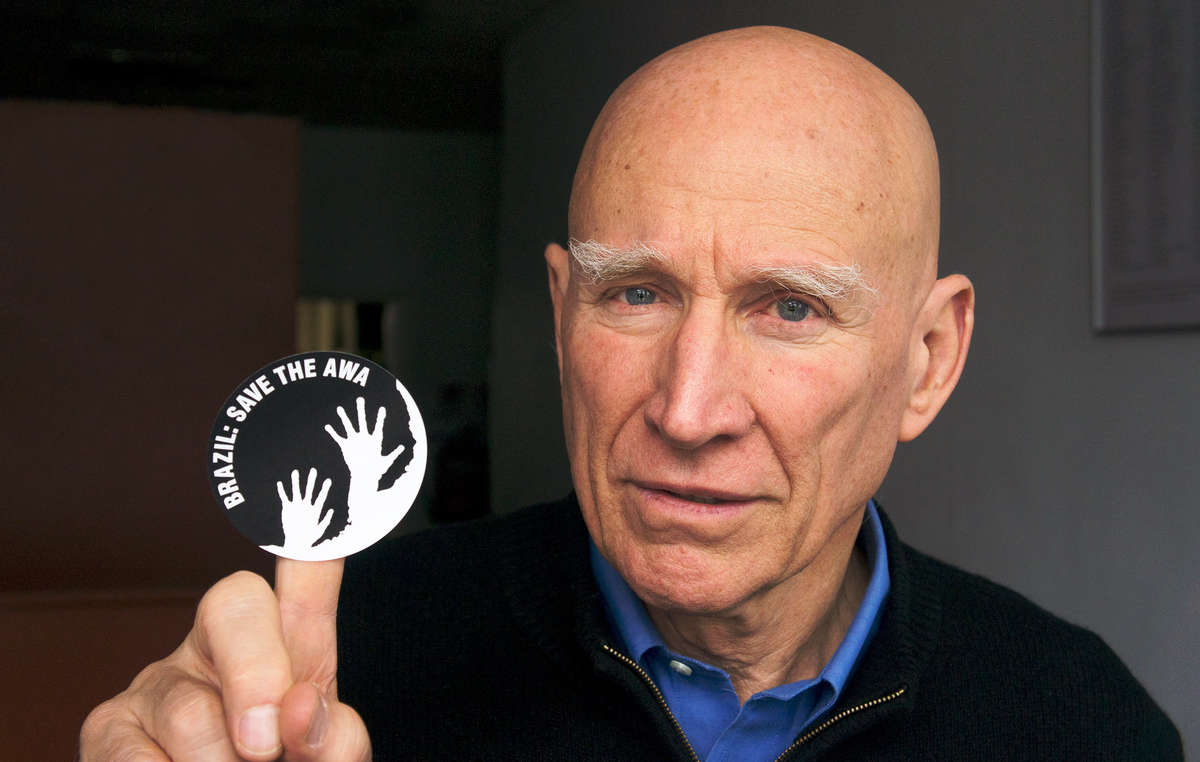 © Survival International
Survival International is sending Brazil's Minister of Justice one 'Awáicon' photo every day in an urgent bid to save the Awá, Earth's most threatened tribe, from extinction as illegal loggers are destroying their rapidly disappearing island of forest.
Photos of the Awáicon – which reads 'Brazil: Save the Awá – in public places and sported by celebrities will continue to pile up in the Minister's office each day until the invaders are removed from the Awá's land in the north-eastern Amazon.
Minister José Eduardo Cardozo has promised to evict the invaders imminently from the Awá indigenous territory, but so far no concrete action has been taken. There is no time to waste as the rainy season will start soon, making the evictions operation almost impossible. The government already missed an urgent deadline set by a federal judge to evict the invaders by the end of March 2013.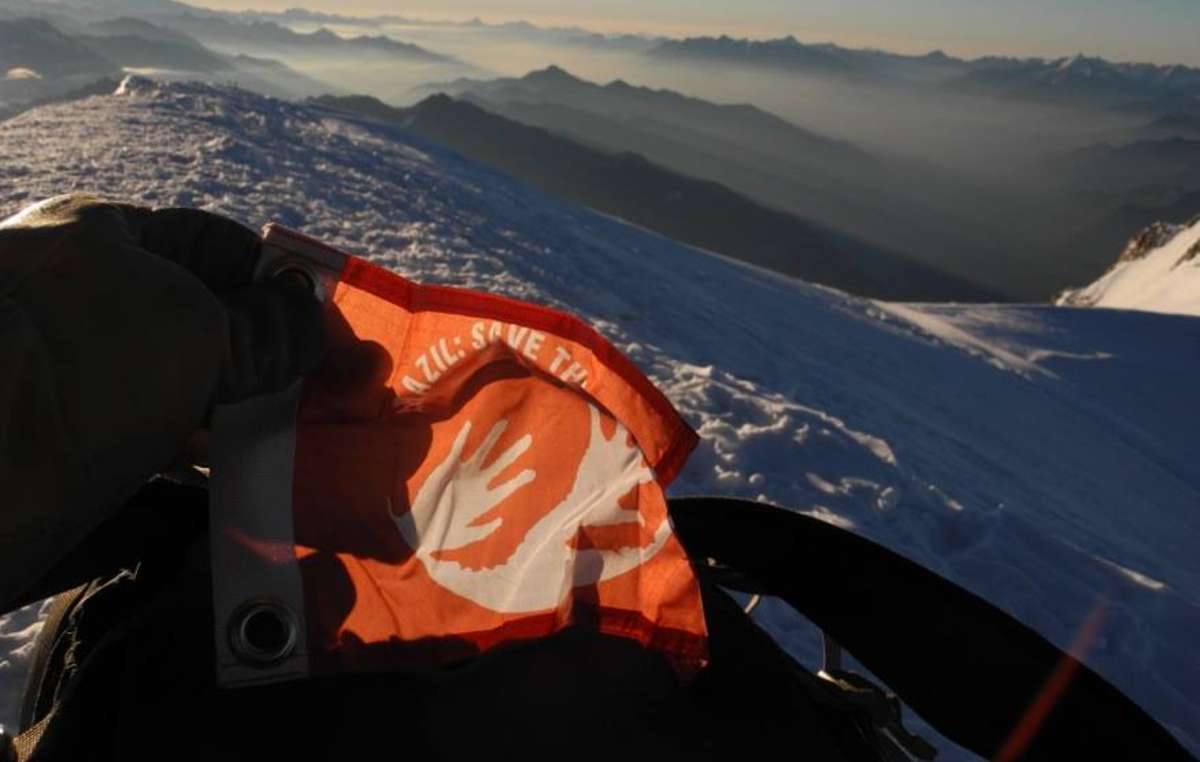 © Survival International
The nomadic hunter-gatherer Awá are growing increasingly desperate as loggers are closing in on them and preventing them from hunting and feeding their families, and the Indians fear for the survival of their uncontacted relatives who are exposed to violence as they live on the run from the invaders in their forest.
An Awá man told Survival, 'Very good, non-Indians, what you're doing is really important, and really good! Help us as fast as you can.'
Survival's supporters have been spreading the Awáicon across the world's most famous landmarks – from Brazil's Sugarloaf Mountain to the White House in Washington DC, from the top of Western Europe's highest peak on Mont Blanc to South Africa's Table Mountain.
Dozens of celebrities including photographer Sebastião Salgado and film-star Colin Firth are also supporting the campaign.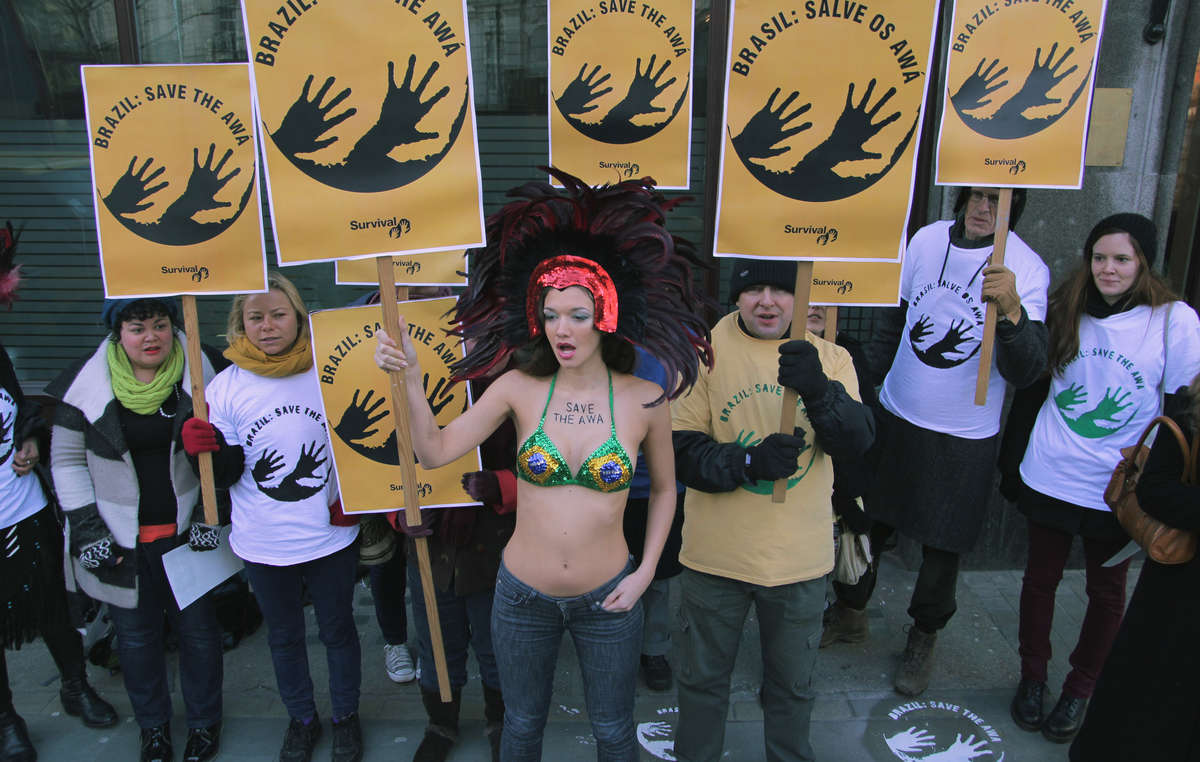 © Survival International
Over 54,000 messages have been sent to the Minister urging him to save the Awá from extinction, and the Americas' top human rights watchdog, the IACHR, has demanded urgent answers from Brazil over its treatment of the Awá.
Survival's Director Stephen Corry said today, 'News of the campaign to save the world's most threatened tribe is spreading far and fast. With photos from across the globe landing on his desk every day, how long will the Minister be able to ignore the Awá? Brazil must take action to protect the tribe before it's too late.'