Commission calls for demilitarization and Jumma land rights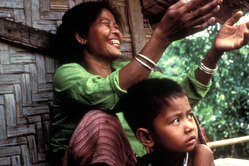 Jumma woman and child.
© Mark McEvoy/Survival
An international commission has urged Bangladesh's new government to demilitarize the Chittagong Hill Tracts (CHT) and return stolen land to its tribal owners, the Jummas.
The recently reformed International Chittagong Hill Tracts Commission (CHTC) called for a phased withdrawal of troops and the handing over of non-military responsibilities to civilian groups. The CHTC also expressed its concern about an ongoing military operation in the region, known as 'Operation Uttoron', and urged that human rights violators should not go unpunished and should be brought to trial.
The CHTC also called upon the government to activate the Land Commission, which registers land titles belonging to the Jummas, and to remove Bengali migrants who are illegally occupying their land. It also urged the government to offer to relocate migrants from the CHT to elsewhere.
The CHTC also held high-level meetings with Bangladesh's Prime Minister and a number of ministers, as well as interviewing victims of human rights violations in the CHT.
The CHT is home to 11 tribes, collectively known as Jummas after their practice of 'shifting cultivation', known locally as 'Jhum'. Hundreds of thousands of settlers have been moved into the hills over the last sixty years, displacing the Jumma people and subjecting them to violent repression.
The CHTC, formed in 1990, has been instrumental in publicizing the gross human rights violations taking place in the CHT. It operated until 2001. Recently it reformed and has just undertaken its second mission to the CHT. The co-chairs include Vice Chair of the UK Parliamentary Human Rights Group, Lord Avebury, and the eminent Bangladeshi human rights activist, Ms. Sultana Kamal.