EU urges removal of military camps on tribal land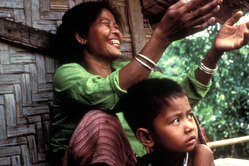 Chakmas, Bangladesh
© Mark McEvoy/Survival
The European Union last week urged Bangladesh to remove military camps from the land of the Jumma tribes, and to help re-settle Jummas who have lost their land.
EU officials, who were visiting the country, called on the Bangladesh government to implement the 1997 Peace Accord it signed with the Jumma tribal people of the Chittagong Hill Tracts (CHT) when it was last in power.
The EU noted that more than 11 years after the signing of the treaty, many of the tribal people displaced by conflict in the Hill Tracts have still not returned to their land. It also called on the government to activate the Land Commission in order to resolve land disputes and hold elections to regional councils.
Bangladesh Prime Minister Sheikh Hasina is reported to have told the EU delegation that her government would implement the peace treaty fully. A committee, led by Deputy Leader of the House Syeda Sajeda Chowdhury, has been formed in order to ensure its full implementation.
Local activists, however, say that despite election pledges and the formation of a number of committees, no changes have been seen in the lives of the tribal people.
Shirin Lira, Co-ordinator of the Chittagong Hill Tracts Commission, which is co-chaired by Britain's Lord Avebury, said, 'Human rights violations including torture, killings, harassment of Buddhist monks, sexual violence against women and children and the dispossession of indigenous peoples' lands by Bengali settlers and military personnel are regularly reported.'
Write a letter in support of the Jumma tribal peoples of the Chittagong Hill Tracts