Banks meet activists to discuss Vedanta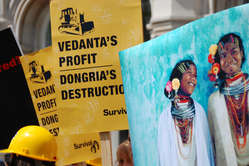 There have been repeated worldwide protests about Vedantas operations.
© Survival
An unprecedented meeting of bankers, NGOs and lawyers took place in London this week to discuss widespread concerns over British company Vedanta Resources' mining operations. Representatives of Vedanta were invited, but did not attend.
The meeting occurred shortly before the UK government is expected to rule on Survival's formal complaint that Vedanta has breached the OECD Guidelines on Multinational Enterprises – the key principles for ethical corporate behaviour – over its treament of the Dongria Kondh tribe in Orissa, eastern India.
All companies registered in OECD countries are expected to abide by the guidelines. The OECD (Organisation for Economic Cooperation and Development) groups together the majority of the world's industralised nations.
Meanwhile, a major accident at a power plant owned by Vedanta subsidiary Balco is believed to have killed at least 22 people. A search for survivors is currently under way after a chimney collapsed onto a workers' canteen in Chhatisgarh, India.