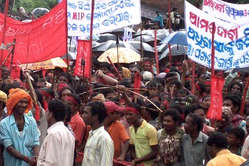 There have been repeated protests against Vedanta's planned mine. © Satyabady Naik
Metals giant Vedanta Resources' Indian subsidiary has launched an unprecedented attack on Survival International, apparently to drive its researchers out of an area where the company is planning to mine.
The mining company has falsely accused Survival of 'forcedly interacting' with the Dongria Kondh tribe who live around the area earmarked for mining, and of causing 'unrest.' Vedanta has prompted a police investigation into Survival, with officers making a late night visit to a hotel where they believed Survival researchers were staying.
Survival researchers were in the Niyamgiri area of Orissa, east India, to talk with members of the Dongria Kondh community whose future is threatened by a proposed Vedanta mine on their sacred mountain.
Pavan Kaushik, Vedanta Group's head of corporate communications, wrote to journalists alleging that 'foreign NGOs including Survival International… are provoking innocent tribal's to defame the government and the company'. In the letter, he attacked 'foreigners' for 'freely moving in the region' and alleged that they were circulating 'false information'. The letter also invites journalists to contact the regional Superintendent of Police, who is named as available for interview.
In September the British government ruled that Vedanta had repeatedly failed to respect the human rights of the Dongria Kondh, demanding a change in the company's behaviour. The government asked Survival to report back on what steps Vedanta had taken to implement these 'essential' changes before the end of the year.
Gordon Bennett, a London barrister who represented the Kalahari Bushmen in their historic win over the Botswana government, has been acting on behalf of the Dongria Kondh in their complaint over Vedanta's behaviour, and accompanied the Survival researchers.
He said today, 'We have not circulated any false information about Vedanta's mining activities. All the information we have given the Dongria has been culled from Vedanta's own mining plan, which it has never troubled to discuss with the Dongria itself. We have not 'forcedly interacted' with the Dongrias: on the contrary we have been warmly welcomed by all those we have been able to meet.
'We have not provoked 'innocent tribals' to defame either the government or Vedanta. It is true to say however that feelings run high in Niyamgiri and that many Dongria regard Vedanta with suspicion and distrust. They believe that their way of life is under serious threat.
'We have done nothing to create 'misunderstanding'. It is Vedanta which has done this, both by its refusal to meet with us, and more importantly by its repeated failure either to consult the Dongria about its plans for their sacred hills, or to pay any regard to their views.'
He added, 'If Vedanta has nothing to hide, it is difficult to understand why it has gone out of its way to obstruct our inquiries. Their press release is entirely without foundation.'
Survival researcher Dr. Jo Woodman is available for interview in India on +91 9953 409 060. For other media enquiries please contact Miriam Ross on +(44) (0)20 7687 8734 or [email protected]
Vedanta's letter to journalists
Foreign NGOs creating unrest in Lanjigarh
Date: Wed, 9 Dec 2009 17:14:18 +0530
From: "Pavan Kaushik" <
[email protected]
>
Dear Sir,
You may kindly like to go through the background below which is a serious matter as foreign NGOs are creating unrest in Lanjigarh and provoking people to talk against the government and the company. I would request if you could kindly depute some one to do this story please.. I have also mentioned the phone numbers of SP Kalahandi and also the
COO
of Vedanta in Lanjigarh for any reference or talking over phone please.
Ill be grateful if you could kindly take up this issue please.
Regards
Pavan Kaushik
Head – Corporate Communication
Vedanta Group
Phone: 9928844499
Foreign NGOs creating unrest in Lanjigarh
Recently the statement of Hon'ble Steel and Mines Minister of Orissa, Mr. Raghunath Mohanty, stating that 'Not a single tribal family would be displaced due to this mining project' and also that 'No Dongria Kondha tribe live at the proposed mining area of Lanjigarh located between Rayagada and Kalahandi districts' has been a lot unrest in the foreign NGOs who have been circulating a lot of false information about the entire mining activity in Orissa.
There has been a sudden movement of foreigners / foreign NGOs in Lanjigarh, Kalahandi district in the past few days. Strangely foreigners coming on tourist visa from countries like Italy, Germany, Australia, Denmark, UK etc. have become frequent and they are freely moving in the region. These people have been forcedly interacting with local tribals and disturbing their peace. A local
NGO
is supporting the visits. The local people have taken this very seriously and are opposing their entry into their region. The unrest has also got reported to local police authorities who are now looking into the matter of this sudden movement of foreign NGOs including Survival International. These foreign NGOs are provoking innocent tribals to defame the government and the company, Vedanta Group. This is being done to create misunderstanding and an environment of unrest before the visit of Central Team of MoEF that is scheduled to visit the Niyamgiri shortly.
The world is taking note of India starting bauxite mining after a gap of over 25 years. Once the bauxite mine at Niyamgiri starts, India will be placed as one of the largest aluminium producer in the world.
Niyamgiri range of hills has 250 sq. cm large foot print. The actual mineralization area in the proposed mining project is only 3.5% KM, that also having a depth of about 30 metres on the top. This truth has put a complete dent on the false information being circulated by these foreign NGOs that proposed mining will completely destroy the Niyamgiri mountain. Actually speaking, Bauxite extraction will actually benefit the environment, because it removes a hard rocky layer called laterite which would allow rain water to percolate deep inside the soil, increasing afforestation post-mining. Vedanta highlighted that with the use of best technology the plant is meeting all the required compliances in respect of air and water pollution, rather Lanjigarh Refinery is amongst the few in the world to have attained zero discharge status.
The Orissa government has constituted a Special Purpose Vehicle (
SPV
) in the name of Lanjigarh Project Area Development Foundation (
LDADF
), with contribution of State Government as 25%, Orissa Mining Corporation as 26% and Sterlite Industries Ltd as 49%, as directed by the Supreme Court. The Revenue Divisional Commissioner (
RDC
) – Southern Division is the Chairman of the Special Purpose Vehicle which on its first meeting itself decided to take up development projects worth Rs. 17.70 crore in the areas of health, education, road, infrastructure development that are required for the upliftment of Dongria and Kutia Kondha tribes, the Minister added.
Earlier, the Hon'ble Supreme Court of India, while granting permission vide the judgement dated August 8, 2008, had looked all aspects including tribal development, wild life impact, environment impact, and sustainable development in the area connected with this project, taking into account all arguments, and came to the conclusion that starting mining operation at Niyamgiri Hills, subject to fulfilment of all statutory requirement, will definitely give a boost to the development of the entire area. Since mining is an important source of revenue generation, such projects should be encouraged along with principle of sustainable development so that these areas can be brought to the main line, the Hon'ble Court had observed.
The Hon'ble Supreme Court of India also observed that there is abject poverty in the area and the area is lacking with regards to health, education, infrastructure, communication, to name a few. On the recommendation of the apex court, the Company agreed for investing 5% of the profit or Rs. 10 crore, which ever is more, from this project, for the developmental works within 50 km of the project area.
Vedanta has been saying this all along that bauxite is a hard rock that exists above 900 metres from the surface and therefore the Niyamgiri hills are neither crop nor inhabitants-friendly.
The bauxite-alumina project at Lanjigarh in Kalahandi district in Orissa would initiate investment of over Rs. 10,000 crore by Vedanta. Over 5000 local people have worked to build the Lanjigarh Plant. Kalahandi district of Orissa is one of the most backward district in India and the project is expected to change the profile of the entire district bringing considerable direct and indirect employment, infrastructure development, community development, social-economic development and empowerment.
Mines are generally located in the remote areas and development of such projects not only bring prosperity of that area but also add considerable value to the State's exchequer.
India is a mineral rich country and at par with countries like Canada, Australia, South Africa and Brazil. The minerals have contributed significantly to the GDP's of these countries and have become alternative source of revenue to the government. The same model should work for India as well.
Regards
Pavan
You can speak to the following two people on the above:-
1. Chief Operating Officer of Lanjigarh, Dr. Mukesh Kumar. His mobile number is +91 9937251216.
2. SP Kalahandi is Mr. Manohar Das – +91 9437158022, 06670230207, 06670230216