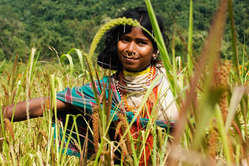 The Dongria depend entirely on the Niyamgiri Hills for their livelihood. © Toby Nicholas/Survival
Human rights investigators in India have been harassed and intimidated by large gangs of men apparently paid to stop any outsiders reaching the site of a controversial proposed mine in India.
The men, known locally as 'goons', have become increasingly active in villages around the Niyamgiri Hills, Orissa, site of a giant bauxite mine planned by the UK FTSE-100 company Vedanta Resources. The hills are the ancestral home of the Dongria Kondh tribe, who vehemently oppose the mine.
The gangs, equipped with new mobile phones and motorbikes, harassed the investigators shortly before Pavan Kaushik, Vedanta's head of corporate communications, wrote a letter to selected journalists.
In the letter Mr Kaushik attacked 'foreigners' for 'freely moving in the region' and 'forcedly interacting with tribals', alleged they were circulating 'false information', and asked journalists to 'do this story'.
Two investigators from Survival International and a human rights lawyer, Gordon Bennett, were in the Hills gathering evidence on whether the Dongria have been consulted about Vedanta's plans. The company was recently heavily criticized by the British government, which accused it of breaking guidelines for corporate conduct and said a 'change in the company's behaviour' is 'essential.'
The Survival team and Mr Bennett were surrounded on three separate occasions by large gangs of men as they investigated the Dongria's plight. Some of the men were armed with axes, and attempted to take the team's notebooks and cameras.
Mr Kaushik's letter also invites journalists to contact the regional Superintendent of Police, who is named as 'available for interview'. The Dongria and their supporters in India have long accused the local police of acting at Vedanta's behest. The police were sent late at night to a hotel where they believed members of the Survival team were staying.
Despite the harassment, the Survival researchers and Mr Bennett eventually evaded the 'goons', and visited several of the Dongria villages likely to be affected. One of the team, Dr. Jo Woodman, said today, 'These men have taken it upon themselves to put the Dongria under siege. They are trying to keep outsiders from hearing the strength of the Dongria's resistance, but they failed: all the Dongria that we met were united in their determination to save their sacred mountain.'
One Dongria elder told the team, 'Vedanta wants to take our bauxite, but we will not let them take it. We are all together – you and me. Like this we are strong. But if one of us falls we all will fall. You have the language. You can carry our voices to the outside – we cannot do that without your help.'
Mr Bennett and Dr. Woodman are available for interview.