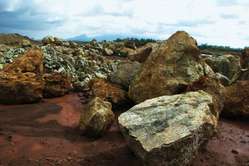 Nickel mining threatens to devastate the Palawan tribe's land. © Dario Novellino
An anti-mining activist has been murdered in the Philippines. Dr Gerry Ortega was shot dead four days ago on Palawan island.
Local mayor Edward Hagedorn told journalists, 'From the initial findings, we know that this is a politics and vengeance killing.' Dr Ortega's family say he had received death threats prior to his murder. A man has been arrested.
Nickel mining on Palawan island threatens to devastate the ancestral land of the Palawan tribe. Dr Ortega had spoken out strongly against mining, and had also exposed government corruption related to the industry.
Despite the Palawan tribe's opposition, in December last year the local government granted two companies clearance to mine on their land. Companies Macro Asia and the Ipilan Nickel Mining Corporation are now awaiting the final permission they need from the governor of the island, which he is expected to grant by the end of January.
The proposed mines will destroy the forests the Palawan tribe rely on. Numbering around 40,000 people, the Palawan are shifting cultivators, clearing a small area of the forest for food production before moving on and allowing the forest to regenerate. They hunt wild pig and collect and sell resin, rattan canes and wild honey.
Artiso Mandawa of the local indigenous organization ALDAW (Ancestral Land/Domain Watch), has also received repeated death threats. He says, 'I will continue to fight for my people and my land, until the president of the Philippines puts a halt to all those mining investments that are genocidal to indigenous people.'
Survival is appealing to the governor of Palawan to reject mining on the tribe's land without their consent.