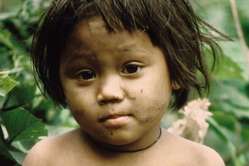 Palawan child © Dario Novellino
Nine traditional leaders of the Palawan tribe are in the Philippine capital, Manila, to protest against the MacroAsia company mining on their land.
Members of the Palawan tribe who live in the remote Brookes Point region, have consistently opposed mining on their land. The area is home to tribal people who have had little contact with the outside world. In recent weeks there has been a military build up in this area, with soldiers entering the Palawan's land. Palawan fear that the military presence will make it harder for them to oppose the mine.
The traditional leaders are in Manila to oppose MacroAsia's plans to mine their ancestral home. They have met with Congressmen and will call on the National Commission of Indigenous Peoples (NCIP) not to grant MacroAsia the certificate they need in order to move to the next stage of their mining application.
The trip to the capital was organised by the indigenous network, Ancestral Land/Domain Watch (ALDAW), in response to a recent visit to Manila of 30 'Tribal Chieftains' from Palawan, who claimed to support the mining project. According to ALDAW, none of the 30 'Chieftains' inhabit the ancestral lands to be affected by MacroAsia and therefore have no right to give their consent.
ALDAW's chairman Artiso Mandawa said, 'By creating ad hoc tribal leaders, the NCIP (National Commission of Indigenous Peoples) and MacroAsia have bluntly disregarded local decision-making processes'.