Obama urged to support Guarani Indians during trip to Brazil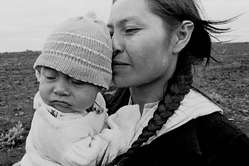 Guarani mother and child. The sugarcane boom is threatening the lives of the Guarani.
© João Ripper/Survival
Survival International has appealed to US President Barack Obama to support the Guarani Indians of Brazil, whose lives are threatened by the booming sugarcane industry.
Survival has urged President Obama to discuss the Guarani's plight with Brazil's new President, Dilma Rousseff, during his trip to Brazil this weekend.
The demand for ethanol, a biofuel derived from sugarcane, is rising in the US, and imports from Brazil look set to increase greatly.
Sugarcane is being grown illegally on Guarani's ancestral land, which is of huge spiritual importance to the Indians and upon which they rely for their survival.
The sugarcane is polluting the Guarani's rivers, killing fish and causing diarrhea, headaches and other illness amongst the Indians.
Ambrósio Vilhalva, a Guarani man from one of the communities affected, told Survival, 'The sugar cane plantations are finishing off the Indians. Our lands are getting smaller and smaller. The plantations are killing the Indians'.
Many Guarani, having lost their ancestral land, are forced to live in overcrowded reserves or in make-shift camps on the side of main roads where suicide, alcoholism and malnutrition are rife.
The Brazilian government is legally obliged to map out the Guarani's land for their exclusive use. However, the program to protect the land has come to a stand-still and over 70 ethanol refineries are planned for Mato Grosso do Sul state, threatening to put the Guarani's future further in jeopardy.
Last year, energy giant Shell signed a $12 billion deal to produce ethanol with Brazilian biofuels company Cosan, which is buying sugarcane grown on Guarani land.
Survival International's Director Stephen Corry, said today, 'The Guarani have already lost much of their land to ranches and soya plantations in past decades; it would be inhumane to now force them to bear the brunt of the boom in demand for ethanol. President Obama's trip to Brazil presents an invaluable opportunity for the two presidents to discuss the Guarani's plight and to spur positive action to protect their lands'.
Download Survival's report about the Guarani situation, sent to the UN last year.
Download Survival's letter to President Obama.
Related news articles
Most recent