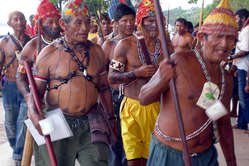 Indians protesting against the Belo Monte dam © Telma Monteiro/Survival
The Inter-American Commission on Human Rights has ordered the Brazilian government to suspend construction of the Belo Monte dam until the rights of the thousands of indigenous people in the area are respected.
The Belo Monte dam, if built, would devastate over 1500 km2 of land and reduce fish stocks upon which numerous tribes in the area depend for their survival.
The Commission has asked the Brazilian authorities to consult all the indigenous communities that will be affected by the dam before construction can continue, in accordance with Brazilian and international law.
It has also urged that the Brazilian authorities adopt 'comprehensive measures' to protect the lives of the uncontacted Indians in the area and to prevent disease from spreading.
The dam particularly threatens the uncontacted Indians, whose lives are at risk from the wave of immigration the dam construction would bring. These Indians have little immunity to outside diseases like 'flu, which could be fatal for them.
Brazil's Ministry of Foreign Affairs responded to the Commission's demands by stating that the authorities were 'perplexed' by the Commission's 'unjustified' demands.
Sheyla Juruna, whose tribe is concerned about the devastation the dam would bring, said, 'If the government doesn't respond to the Commission's points, it will create a really bad image for itself amongst national and international society… We will maintain our firm resistance against the implementation of the Belo Monte dam complex'.
Last month, Sheyla traveled to Europe to protest against the dam.
Read the IACHR's demands to the Brazilian government in English or Portuguese (pdf).