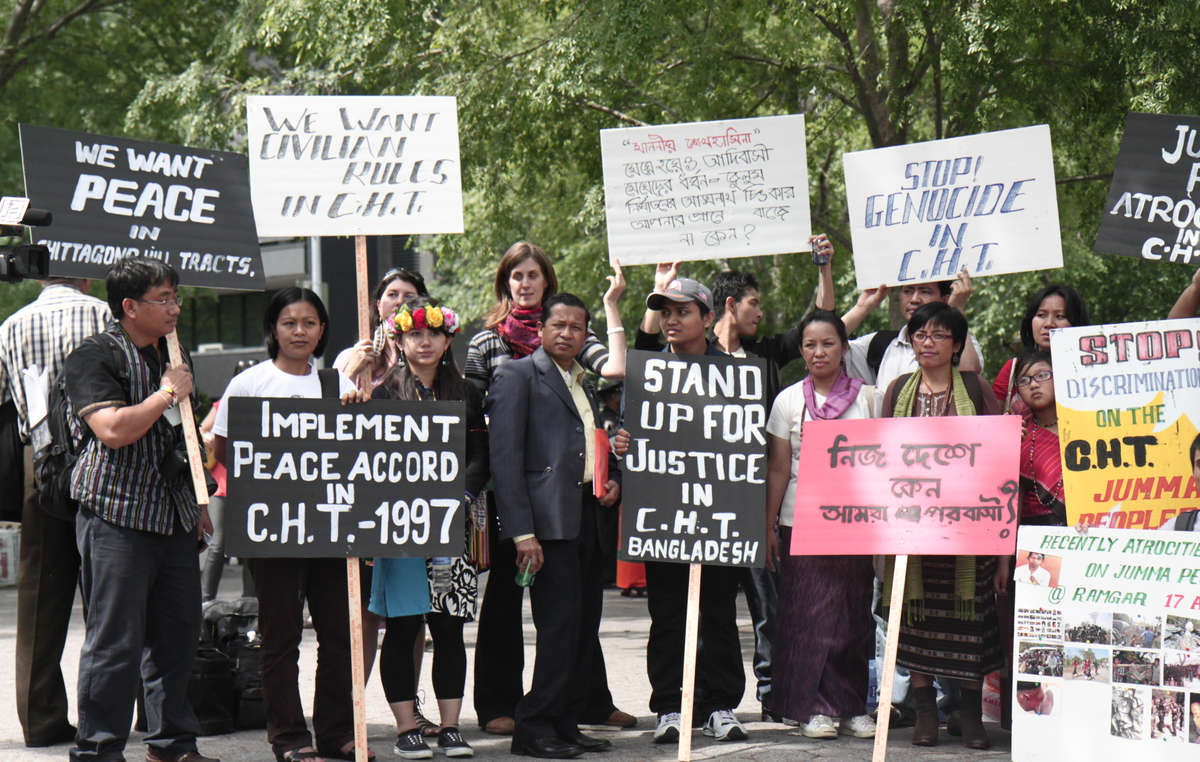 Jummas and indigenous people from around the world call for the Chittagong Hill Tract peace treaty to be honored outside the UN in New York. May 2011 © Ben Powless
This page was last updated on August 15, 2018 and may contain language which is now outdated.
Jumma tribal people from Bangladesh, protested outside the United Nations in New York this week to demand a fourteen year-old peace treaty be honoured. Indigenous people from around the world joined in the demonstration.
In 1997 the Bangladeshi government and the Jummas signed a peace accord in which the government committed to removing military camps from the Chittagong Hill Tracts (CHT), where the Jumma live. According to the peace accord, the government would also stop settlers and the army stealing Jumma land. The accord offered hope, but military camps remain in the hill tracts and violence and land grabbing continue.
The hill tracts are home to 11 tribes, collectively known as Jummas after their farming method, known locally as 'Jhum'. Hundreds of thousands of settlers have been moved into the hills over the last sixty years, displacing the Jumma people and subjecting them to brutal repression.
Victoria Tauli Corpuz, former chair of the UN Permanent Forum on Indigenous Issues (UNPFII), spoke at the demonstration. She said, 'The Bangladesh army needs to stop these human rights violations, and there should be investigations into the attacks, which are happening very systematically'.
Chief Wilton Littlechild, Chair of the Peace & Reconciliation Commission of Canada, said, 'So long as the sun shines and grass grows and rivers flow, all treaties should be respected, and now these are enshrined in the United Nations Declaration on the Rights of Indigenous Peoples.'
Many Indigenous people who are attending the 10th session of the UNPFII were present at the rally, including those from the US, Canada, Philippines, Norway, Bangladesh and Kenya.