Philippine mine given shock clearance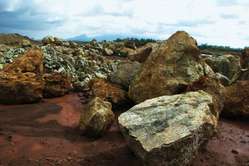 The impact of nickel mining on Palawan
© Dario Novellino
Less than two months after the Palawan tribe of the Philippines celebrated the news that a local government panel had refused to allow mining company MacroAsia to mine on their land, the national government has over-ruled the decision and given the company the go-ahead.
On July 30, a local government panel refused to give mining giant MacroAsia permission to mine on the Palawan's traditional land. The panel ordered further investigations, including into the impact of mining on the indigenous people, before a decision could be reached. However, in a move which has shocked observers, the national government's Department for Environment and Natural Resources has given environmental clearance for the mine, without the necessary local level permission being granted.
Government claims that the mine has been approved following a series of consultations are hotly denied by local elder Panglima Sagad. He said, 'Government authorities are lying, we indigenous communities have rejected mining ever since and even during recent public consultations.' Isolated Palawan are living within the area of the MacroAsia concession and they have not been consulted about the mine.
Members of the Palawan tribe are now calling on the President of the Philippines to scrap the 1995 mining act, which has been so devastating to indigenous peoples in the country, and declare Palawan a mining-free province. Palawan indigenous leader Artiso Mandawa said, 'The President has the power to reverse those policies that have brought much suffering to our people and to our precious environment.'