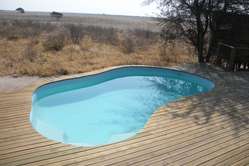 The pool of Wilderness Safaris' new lodge in the Central Kalahari Game Reserve, Botswana. The tourist lodge was developed and built without the consent of the Bushmen, who have been living on this land for centuries.
© Survival International
Survival today called for tourists to boycott Botswana until the government ends a brutal campaign of persecution against Kalahari Bushmen.
The call coincides with World Tourism Day, September 27, which Botswana is using to promote its 'cultural diversity and welcoming people'.
But its government has waged a thirteen-year campaign to evict the Bushmen, the country's first inhabitants, from their ancestral lands inside the Central Kalahari Game Reserve. Many have been evicted several times from their homes in the reserve to grim relocation camps.
Although the Bushmen won a legal victory to be allowed to return home, the government is trying to starve them out of the reserve. It has banned their access to water (they are not allowed to use their former well, which has been disabled), and food (they are not allowed to hunt).
The government's actions have been criticized by the UN – its expert found the Bushmen face 'harsh and dangerous conditions due to a lack of access to water' – and the African Union's Commission on Human and Peoples' Rights.
And while the Bushmen are denied food and water, the government is promoting tourism to the reserve – Wilderness Safaris has opened a luxury tourist lodge with swimming pool – and is likely to grant Gem Diamonds permission to mine for diamonds at one of the Bushmen's communities.
Botswana's president, Ian Khama, who sits on the board of Conservation International, as well as having close personal links to Wilderness Safaris, has described the Bushmen's way of life as 'an archaic fantasy'. Meanwhile, the CEO of Wilderness Safaris, Andy Payne, has said that 'any Bushman who wants a glass of water can have one'.
Survival's director, Stephen Corry, said today, 'It is obvious that Botswana's president has never forgiven the Bushmen for returning to their ancestral lands and is now ensuring they are harassed on a repeated and ongoing basis. Meanwhile, he continues to sit on the board of Conservation International, and the country receives plaudits for its conservation and tourism industries. Tourists should decide if they really want to support the destruction of Africa's hunting Bushmen.'